ATN International (NASDAQ:ATNI) is scheduled to post its quarterly earnings results after the market closes on Wednesday, October 23rd. Individual that wish to register for the company's earnings conference call can do so using this link.
ATN International (NASDAQ:ATNI) last announced its quarterly earnings data on Wednesday, July 24th. The technology company reported ($0.05) earnings per share for the quarter, topping the consensus estimate of ($0.11) by $0.06. ATN International had a return on equity of 1.92% and a net margin of 3.57%. The company had revenue of $107.72 million during the quarter, compared to analyst estimates of $106.51 million. On average, analysts expect ATN International to post $0 EPS for the current fiscal year and $0 EPS for the next fiscal year.
Shares of ATNI opened at $57.15 on Monday. The business has a 50-day moving average of $58.20 and a 200 day moving average of $58.53. ATN International has a fifty-two week low of $50.48 and a fifty-two week high of $88.78. The firm has a market cap of $912.91 million, a P/E ratio of 44.30 and a beta of 0.37. The company has a debt-to-equity ratio of 0.17, a quick ratio of 1.87 and a current ratio of 1.92.
The company also recently disclosed a quarterly dividend, which was paid on Monday, October 7th. Investors of record on Monday, September 30th were issued a $0.17 dividend. This represents a $0.68 annualized dividend and a yield of 1.19%. The ex-dividend date of this dividend was Friday, September 27th. ATN International's dividend payout ratio (DPR) is currently 52.71%.
Several equities research analysts recently weighed in on the company. BidaskClub lowered ATN International from a "hold" rating to a "sell" rating in a report on Wednesday, October 16th. Raymond James set a $64.00 price objective on ATN International and gave the stock an "outperform" rating in a report on Friday, July 26th. National Securities started coverage on ATN International in a report on Wednesday, October 16th. They issued a "buy" rating for the company. Zacks Investment Research raised ATN International from a "hold" rating to a "buy" rating and set a $64.00 target price for the company in a report on Thursday. Finally, ValuEngine raised ATN International from a "hold" rating to a "buy" rating in a report on Wednesday, September 4th. One equities research analyst has rated the stock with a sell rating and six have given a buy rating to the company. The stock has a consensus rating of "Buy" and an average target price of $66.33.
About ATN International
ATN International, Inc, through its subsidiaries, provides wireless and wireline telecommunications services in North America, India, Bermuda, and the Caribbean. It operates through three segments: U.S. Telecom, International Telecom, and Renewable Energy. The U.S. Telecom segment offers wireless and wireline services; wholesale wireless voice and data roaming services to wireless carriers principally in the Southwest and Midwest the United States; and retail wireless, wireline, and wholesale long-distance voice services to telecommunications carriers.
Recommended Story: Stock Split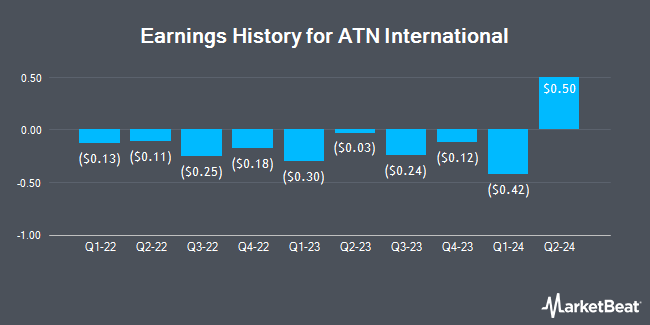 Receive News & Ratings for ATN International Daily - Enter your email address below to receive a concise daily summary of the latest news and analysts' ratings for ATN International and related companies with MarketBeat.com's FREE daily email newsletter.