DRDGOLD Ltd. (NYSE:DRD) declared a — dividend on Thursday, September 19th, Wall Street Journal reports. Investors of record on Friday, September 27th will be given a dividend of 0.1357 per share by the basic materials company on Thursday, October 10th. The ex-dividend date is Thursday, September 26th.
DRDGOLD has decreased its dividend by an average of 19.5% annually over the last three years and has raised its dividend annually for the last 6 consecutive years.
NYSE:DRD traded up $0.11 during midday trading on Thursday, reaching $4.31. 152,912 shares of the company traded hands, compared to its average volume of 134,180. DRDGOLD has a twelve month low of $1.64 and a twelve month high of $4.85. The firm has a market capitalization of $166.30 million, a price-to-earnings ratio of 53.88 and a beta of -0.50. The company has a debt-to-equity ratio of 0.07, a current ratio of 1.43 and a quick ratio of 0.77. The company has a fifty day moving average price of $3.99 and a 200 day moving average price of $2.68.
A number of research analysts recently issued reports on DRD shares.
ValuEngine
lowered DRDGOLD from a "buy" rating to a "hold" rating in a research report on Thursday, August 1st. HC Wainwright started coverage on DRDGOLD in a research report on Thursday, September 5th. They set a "buy" rating and a $13.75 price objective for the company.
About DRDGOLD
DRDGOLD Limited, a gold mining company, engages in surface gold tailings retreatment business in South Africa. The company's activities include exploration, extraction, processing, and smelting. It recovers gold from surface tailings in the central and western Witwatersrand basin in Gauteng province.
Read More: Most Active Stocks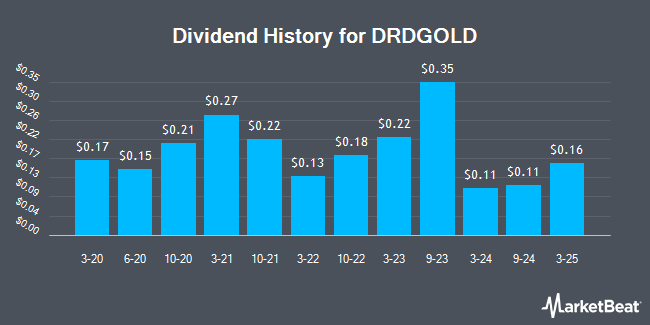 Receive News & Ratings for DRDGOLD Daily - Enter your email address below to receive a concise daily summary of the latest news and analysts' ratings for DRDGOLD and related companies with MarketBeat.com's FREE daily email newsletter.