NEWTEK Business Services Corp (NASDAQ:NEWT) announced a quarterly dividend on Wednesday, August 21st, Zacks reports. Shareholders of record on Friday, September 20th will be paid a dividend of 0.58 per share by the business services provider on Monday, September 30th. This represents a $2.32 annualized dividend and a yield of 9.89%. The ex-dividend date is Thursday, September 19th. This is a positive change from NEWTEK Business Services's previous quarterly dividend of $0.46.
NEWTEK Business Services has increased its dividend by an average of 9.8% annually over the last three years and has raised its dividend every year for the last 3 years. NEWTEK Business Services has a dividend payout ratio of 122.1% meaning the company cannot currently cover its dividend with earnings alone and is relying on its balance sheet to cover its dividend payments. Research analysts expect NEWTEK Business Services to earn $2.67 per share next year, which means the company should continue to be able to cover its $2.32 annual dividend with an expected future payout ratio of 86.9%.
Shares of NEWT stock opened at $23.45 on Tuesday. NEWTEK Business Services has a 1 year low of $15.59 and a 1 year high of $23.83. The firm's 50 day moving average is $22.03 and its 200-day moving average is $21.61. The firm has a market capitalization of $445.33 million, a price-to-earnings ratio of 15.49 and a beta of 1.22. The company has a current ratio of 0.34, a quick ratio of 0.34 and a debt-to-equity ratio of 0.34.
NEWTEK Business Services (NASDAQ:NEWT) last posted its earnings results on Tuesday, August 6th. The business services provider reported $0.57 earnings per share for the quarter, topping the Thomson Reuters' consensus estimate of $0.56 by $0.01. The company had revenue of $14.15 million for the quarter, compared to analyst estimates of $14.33 million. NEWTEK Business Services had a net margin of 68.61% and a return on equity of 9.87%. On average, equities research analysts forecast that NEWTEK Business Services will post 2.55 earnings per share for the current fiscal year.
In other news, CEO Barry Sloane acquired 2,000 shares of the firm's stock in a transaction dated Monday, August 12th. The stock was bought at an average price of $20.94 per share, with a total value of $41,880.00. Following the transaction, the chief executive officer now directly owns 1,029,906 shares in the company, valued at approximately $21,566,231.64. The purchase was disclosed in a filing with the SEC, which is accessible through this hyperlink. In the last three months, insiders bought 2,698 shares of company stock valued at $56,379. Insiders own 6.70% of the company's stock.
NEWT has been the subject of a number of analyst reports. Zacks Investment Research raised shares of NEWTEK Business Services from a "hold" rating to a "buy" rating and set a $23.00 target price for the company in a research report on Saturday, August 10th. BidaskClub downgraded shares of NEWTEK Business Services from a "hold" rating to a "sell" rating in a research report on Saturday, August 10th. Finally, ValuEngine downgraded shares of NEWTEK Business Services from a "buy" rating to a "hold" rating in a research report on Thursday, July 18th. One research analyst has rated the stock with a sell rating, two have assigned a hold rating and three have assigned a buy rating to the stock. The stock has an average rating of "Hold" and an average price target of $19.17.
About NEWTEK Business Services
Newtek Business Services Corp. is a business development company specializing in providing financial and business services to the small-and medium-sized business market in the United States. The firm also seeks to invest in early stage businesses. The firm seeks to makes both debt and equity investments.
Further Reading: What is Blockchain?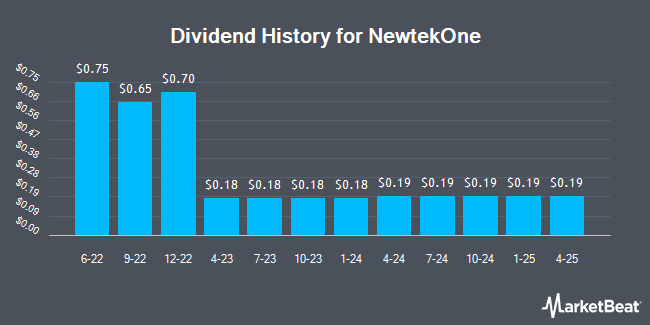 Receive News & Ratings for NEWTEK Business Services Daily - Enter your email address below to receive a concise daily summary of the latest news and analysts' ratings for NEWTEK Business Services and related companies with MarketBeat.com's FREE daily email newsletter.