BNP Paribas upgraded shares of Danone (OTCMKTS:DANOY) from a neutral rating to an outperform rating in a research report released on Wednesday morning, Briefing.com Automated Import reports.
DANOY has been the subject of several other reports. Credit Suisse Group downgraded shares of Danone from an outperform rating to a neutral rating in a research note on Monday, July 15th. Zacks Investment Research raised shares of Danone from a sell rating to a hold rating in a research note on Tuesday, July 30th. Finally, HSBC started coverage on shares of Danone in a research note on Friday, June 28th. They set a hold rating for the company. One analyst has rated the stock with a sell rating, three have assigned a hold rating and four have assigned a buy rating to the company. Danone currently has an average rating of Hold and a consensus price target of $18.00.
Shares of OTCMKTS:DANOY traded up $0.01 during midday trading on Wednesday, hitting $17.42. 58,088 shares of the stock traded hands, compared to its average volume of 491,575. The stock has a market cap of $56.38 billion, a PE ratio of 20.74, a PEG ratio of 2.57 and a beta of 0.72. The stock's 50 day simple moving average is $17.10. The company has a debt-to-equity ratio of 0.87, a current ratio of 1.04 and a quick ratio of 0.86. Danone has a one year low of $13.57 and a one year high of $17.65.
Danone Company Profile
Danone SA operates in the food and beverage industry worldwide. The company operates through four segments: EDP International, EDP Noram, Specialized Nutrition, and Waters. It offers yogurts under the DanActive, Danimals, Dannon, Danonino, Light & Fit, Oikos, Wallaby, YoCrunch, Danone, Danonino or Prostokvashino, Light & Free, and Vitalinea brand names; and almond-based, cashew-based, soy-based products, ice creams and novelties, and nutrition products under the Silk, So Delicious, Vega, and Alpro brands.
Read More: How to Calculate Compound Annual Growth Rate (CAGR)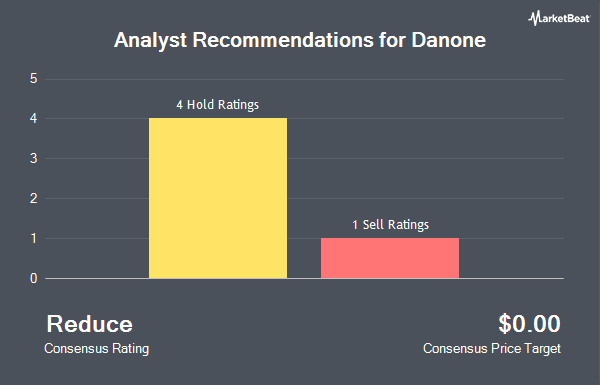 Receive News & Ratings for Danone Daily - Enter your email address below to receive a concise daily summary of the latest news and analysts' ratings for Danone and related companies with MarketBeat.com's FREE daily email newsletter.