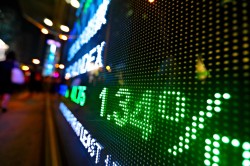 Oppenheimer initiated coverage on shares of Outlook Therapeutics (NASDAQ:OTLK) in a report published on Thursday, BenzingaRatingsTable reports. The brokerage issued an outperform rating and a $12.00 target price on the stock.
Several other equities research analysts also recently issued reports on OTLK. ValuEngine downgraded shares of Outlook Therapeutics from a buy rating to a hold rating in a research note on Tuesday, January 29th. Ascendiant Capital Markets started coverage on shares of Outlook Therapeutics in a research report on Monday, April 22nd. They issued a buy rating and a $4.00 target price for the company.
Outlook Therapeutics stock traded up $0.55 during midday trading on Thursday, hitting $2.08. 72,655,066 shares of the stock were exchanged, compared to its average volume of 991,696. Outlook Therapeutics has a 1 year low of $0.85 and a 1 year high of $10.96.
Outlook Therapeutics (NASDAQ:OTLK) last released its quarterly earnings results on Wednesday, May 15th. The company reported ($0.58) earnings per share (EPS) for the quarter, topping the Thomson Reuters' consensus estimate of ($0.66) by $0.08. The firm had revenue of $0.64 million for the quarter.
A hedge fund recently bought a new stake in Outlook Therapeutics stock. Renaissance Technologies LLC bought a new position in Outlook Therapeutics, Inc. (NASDAQ:OTLK) in the 1st quarter, according to the company in its most recent Form 13F filing with the Securities and Exchange Commission. The fund bought 11,166 shares of the company's stock, valued at approximately $83,000. Renaissance Technologies LLC owned about 0.10% of Outlook Therapeutics as of its most recent filing with the Securities and Exchange Commission. Institutional investors own 4.60% of the company's stock.
About Outlook Therapeutics
Outlook Therapeutics, Inc, a late clinical-stage biopharmaceutical company, focuses on developing and commercializing monoclonal antibody for various ophthalmic indications. Its lead product candidate is ONS-5010, a proprietary ophthalmic bevacizumab product candidate that is in first clinical trial for the treatment of wet age related macular degeneration and other retina diseases.
Featured Story: Is the Dow Jones Industrial Average (DJIA) still relevant?
Receive News & Ratings for Outlook Therapeutics Daily - Enter your email address below to receive a concise daily summary of the latest news and analysts' ratings for Outlook Therapeutics and related companies with MarketBeat.com's FREE daily email newsletter.