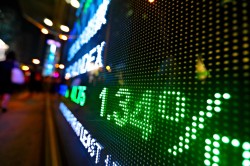 Oconee Federal Financial (NASDAQ:OFED) announced a quarterly dividend on Thursday, April 25th, NASDAQ reports. Investors of record on Thursday, May 9th will be given a dividend of 0.10 per share by the savings and loans company on Thursday, May 23rd. This represents a $0.40 annualized dividend and a yield of 1.58%. The ex-dividend date of this dividend is Wednesday, May 8th.
OFED traded down $0.86 during trading on Friday, reaching $25.26. 3,756 shares of the company traded hands, compared to its average volume of 2,076. The company has a debt-to-equity ratio of 0.38, a current ratio of 0.93 and a quick ratio of 0.93. Oconee Federal Financial has a 12-month low of $22.26 and a 12-month high of $30.16. The firm has a market cap of $145.50 million, a P/E ratio of 51.41 and a beta of 0.09.
Separately, TheStreet raised shares of Oconee Federal Financial from a "c" rating to a "b" rating in a report on Wednesday, February 13th.
WARNING: "Oconee Federal Financial (OFED) Declares $0.10 Quarterly Dividend" was first posted by Week Herald and is the property of of Week Herald. If you are accessing this news story on another site, it was stolen and republished in violation of United States and international copyright and trademark legislation. The legal version of this news story can be read at https://weekherald.com/2019/05/03/oconee-federal-financial-ofed-declares-0-10-quarterly-dividend.html.
Oconee Federal Financial Company Profile
Oconee Federal Financial Corp. operates as a holding company for Oconee Federal Savings and Loan Association that provides various banking products and services in the Oconee County area of northwestern South Carolina and the northeast area of Georgia. The company's deposit products include demand, NOW, money market, savings, certificates of deposit, and individual retirement accounts.
Featured Article: What are the qualifications of a portfolio manager?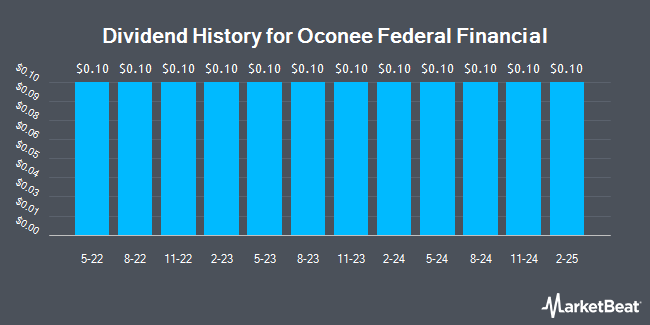 Receive News & Ratings for Oconee Federal Financial Daily - Enter your email address below to receive a concise daily summary of the latest news and analysts' ratings for Oconee Federal Financial and related companies with MarketBeat.com's FREE daily email newsletter.