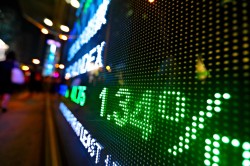 Alkaline Water Company Inc (OTCMKTS:WTER)'s share price fell 6.8% during trading on Friday . The stock traded as low as $2.82 and last traded at $2.87. 2,614,678 shares changed hands during mid-day trading, an increase of 235% from the average session volume of 781,596 shares. The stock had previously closed at $3.08.
Alkaline Water (OTCMKTS:WTER) last released its quarterly earnings data on Thursday, February 14th. The company reported ($0.11) earnings per share (EPS) for the quarter, missing the Zacks' consensus estimate of ($0.03) by ($0.08). The company had revenue of $7.69 million for the quarter. Alkaline Water had a negative return on equity of 263.88% and a negative net margin of 22.16%.
A hedge fund recently bought a new stake in Alkaline Water stock. Sanctuary Wealth Management L.L.C. acquired a new position in shares of Alkaline Water Company Inc (OTCMKTS:WTER) in the fourth quarter, according to its most recent filing with the Securities and Exchange Commission. The institutional investor acquired 17,000 shares of the company's stock, valued at approximately $53,000. Alkaline Water makes up approximately 0.1% of Sanctuary Wealth Management L.L.C.'s investment portfolio, making the stock its 22nd biggest holding.
COPYRIGHT VIOLATION NOTICE: "Alkaline Water (WTER) Stock Price Down 6.8%" was first published by Week Herald and is owned by of Week Herald. If you are accessing this piece of content on another website, it was copied illegally and reposted in violation of United States & international copyright & trademark law. The original version of this piece of content can be read at https://weekherald.com/2019/03/17/alkaline-water-wter-stock-price-down-6-8.html.
About Alkaline Water
(
OTCMKTS:WTER
)
The Alkaline Water Company Inc produces, distributes, and markets bottled alkaline water in the United States. The company offers bottled alkaline water in various volumes under the Alkaline88 trade name. It sells its products through brokers and distributors to retailers, such as convenience stores, natural food products stores, large ethnic markets, and national retailers.
Read More: Stock Symbols Definition, Examples, Lookup
Receive News & Ratings for Alkaline Water Daily - Enter your email address below to receive a concise daily summary of the latest news and analysts' ratings for Alkaline Water and related companies with MarketBeat.com's FREE daily email newsletter.