JPMorgan Chase & Co. restated their neutral rating on shares of Petrofac (OTCMKTS:POFCF) in a research report released on Monday.
Several other research analysts also recently commented on POFCF. Jefferies Financial Group upgraded Petrofac from a hold rating to a buy rating in a report on Monday, January 7th. Sanford C. Bernstein upgraded Petrofac from an underperform rating to a mkt perform rating in a report on Tuesday, January 8th. Morgan Stanley upgraded Petrofac from an equal weight rating to an overweight rating in a report on Wednesday, January 16th. Finally, HSBC started coverage on Petrofac in a report on Tuesday, January 22nd. They set a buy rating on the stock. Two equities research analysts have rated the stock with a hold rating and three have issued a buy rating to the company's stock. The company presently has a consensus rating of Buy.
POFCF opened at $5.03 on Monday. Petrofac has a 52 week low of $4.79 and a 52 week high of $8.95.
Petrofac Company Profile
Petrofac Limited, an oilfield service company, provides facilities solutions to the oil and gas production and processing industry worldwide. The company operates through three segments: Engineering & Construction; Engineering & Production Services; and Integrated Energy Services. The Engineering & Construction segment provides engineering, procurement, construction, installation, and commissioning services to the onshore oil and gas industry.
Further Reading: What is the quiet period?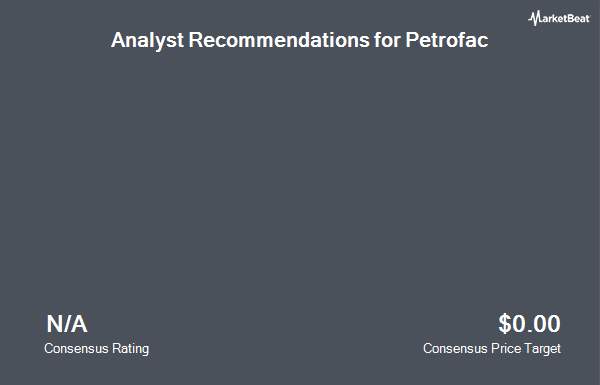 Receive News & Ratings for Petrofac Daily - Enter your email address below to receive a concise daily summary of the latest news and analysts' ratings for Petrofac and related companies with MarketBeat.com's FREE daily email newsletter.