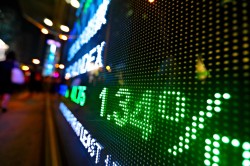 Maltese Capital Management LLC cut its stake in MERIDIAN BK PAO/SH (NASDAQ:MRBK) by 17.5% in the third quarter, HoldingsChannel reports. The institutional investor owned 212,854 shares of the company's stock after selling 45,000 shares during the quarter. Maltese Capital Management LLC's holdings in MERIDIAN BK PAO/SH were worth $3,661,000 at the end of the most recent reporting period.
A number of brokerages have issued reports on MRBK. Zacks Investment Research raised shares of MERIDIAN BK PAO/SH from a "hold" rating to a "strong-buy" rating and set a $19.00 target price for the company in a report on Tuesday, November 6th. ValuEngine lowered shares of MERIDIAN BK PAO/SH from a "hold" rating to a "sell" rating in a research report on Tuesday, November 6th.
MRBK stock opened at $17.29 on Wednesday. The company has a market capitalization of $111.03 million and a PE ratio of 25.06. MERIDIAN BK PAO/SH has a 12 month low of $15.26 and a 12 month high of $20.79.
MERIDIAN BK PAO/SH (NASDAQ:MRBK) last released its quarterly earnings results on Monday, October 29th. The company reported $0.47 EPS for the quarter, beating the consensus estimate of $0.22 by $0.25. The business had revenue of $17.55 million during the quarter, compared to analyst estimates of $17.94 million. Sell-side analysts predict that MERIDIAN BK PAO/SH will post 1.42 EPS for the current fiscal year.
TRADEMARK VIOLATION NOTICE: This article was originally reported by Week Herald and is owned by of Week Herald. If you are accessing this article on another website, it was illegally copied and republished in violation of U.S. and international copyright and trademark law. The original version of this article can be accessed at https://weekherald.com/2018/12/19/meridian-bk-pao-sh-mrbk-shares-sold-by-maltese-capital-management-llc.html.
About MERIDIAN BK PAO/SH
Meridian Corporation operates as the bank holding for Meridian Bank that provides commercial banking products and services for retail and commercial customers primarily in southeastern Pennsylvania, Delaware, and south New Jersey. It offers non-interest bearing deposits and time deposits, as well as interest checking, money market, and savings accounts; and commercial and industrial loans, commercial real estate loans, and consumer and home equity loans, as well as homeowner mortgages.
Featured Article: How to invest in a bear market
Want to see what other hedge funds are holding MRBK? Visit HoldingsChannel.com to get the latest 13F filings and insider trades for MERIDIAN BK PAO/SH (NASDAQ:MRBK).
Receive News & Ratings for MERIDIAN BK PAO/SH Daily - Enter your email address below to receive a concise daily summary of the latest news and analysts' ratings for MERIDIAN BK PAO/SH and related companies with MarketBeat.com's FREE daily email newsletter.