Analysts predict that NutriSystem Inc. (NASDAQ:NTRI) will post earnings per share of $0.61 for the current quarter, Zacks Investment Research reports. Three analysts have made estimates for NutriSystem's earnings, with the highest EPS estimate coming in at $0.62 and the lowest estimate coming in at $0.61. NutriSystem reported earnings of $0.42 per share during the same quarter last year, which would suggest a positive year over year growth rate of 45.2%. The firm is scheduled to issue its next earnings results on Monday, February 25th.
On average, analysts expect that NutriSystem will report full-year earnings of $2.12 per share for the current fiscal year, with EPS estimates ranging from $2.11 to $2.13. For the next fiscal year, analysts anticipate that the firm will post earnings of $2.42 per share, with EPS estimates ranging from $2.34 to $2.47. Zacks Investment Research's EPS averages are an average based on a survey of analysts that cover NutriSystem.
NutriSystem (NASDAQ:NTRI) last announced its earnings results on Tuesday, October 30th. The company reported $0.54 earnings per share (EPS) for the quarter, meeting the Zacks' consensus estimate of $0.54. NutriSystem had a return on equity of 43.46% and a net margin of 8.06%. The company had revenue of $159.30 million for the quarter, compared to analyst estimates of $164.18 million. During the same period in the prior year, the company posted $0.49 EPS. NutriSystem's quarterly revenue was up .8% on a year-over-year basis.
Several equities research analysts recently issued reports on NTRI shares. Barrington Research reissued a "hold" rating on shares of NutriSystem in a research report on Thursday, July 19th. DA Davidson lowered NutriSystem from a "buy" rating to a "neutral" rating and dropped their price target for the company from $45.00 to $40.00 in a research report on Tuesday, July 31st. They noted that the move was a valuation call. B. Riley upped their price target on NutriSystem from $52.00 to $53.00 and gave the company a "buy" rating in a research report on Tuesday, July 31st.
Zacks Investment Research
lowered NutriSystem from a "buy" rating to a "hold" rating in a research report on Wednesday, August 1st. Finally,
ValuEngine
raised NutriSystem from a "strong sell" rating to a "sell" rating in a research report on Friday, August 3rd. One research analyst has rated the stock with a sell rating, four have assigned a hold rating and five have assigned a buy rating to the stock. NutriSystem presently has a consensus rating of "Hold" and a consensus price target of $45.57.
Shares of NTRI stock traded down $0.37 on Monday, hitting $37.07. 404,463 shares of the stock traded hands, compared to its average volume of 1,060,736. The firm has a market cap of $1.08 billion, a P/E ratio of 18.91, a P/E/G ratio of 1.39 and a beta of 1.04. NutriSystem has a 1-year low of $26.06 and a 1-year high of $55.10.
The company also recently declared a quarterly dividend, which will be paid on Monday, November 19th. Investors of record on Friday, November 9th will be given a dividend of $0.25 per share. This represents a $1.00 annualized dividend and a dividend yield of 2.70%. The ex-dividend date is Thursday, November 8th. NutriSystem's dividend payout ratio is currently 51.02%.
NutriSystem announced that its board has initiated a stock buyback plan on Tuesday, October 30th that permits the company to buyback $75.00 million in outstanding shares. This buyback authorization permits the company to purchase up to 7.7% of its shares through open market purchases. Shares buyback plans are often an indication that the company's management believes its stock is undervalued.
Hedge funds have recently bought and sold shares of the stock. First Mercantile Trust Co. bought a new position in NutriSystem during the 2nd quarter worth $119,000. US Bancorp DE grew its stake in NutriSystem by 64.7% during the 2nd quarter. US Bancorp DE now owns 3,726 shares of the company's stock worth $143,000 after buying an additional 1,464 shares during the last quarter. Itau Unibanco Holding S.A. bought a new position in NutriSystem during the 2nd quarter worth $180,000. Independence Advisors LLC bought a new position in NutriSystem during the 2nd quarter worth $203,000. Finally, Janus Henderson Group PLC bought a new position in NutriSystem during the 2nd quarter worth $207,000.
NutriSystem Company Profile
Nutrisystem, Inc, together with its subsidiaries, provides weight management products and services for women and men in the United States. The company offers weight loss programs that consist primarily of a pre-packaged food program, digital tools, and counseling. It also provides Nutrisystem Lean13 program, which provides weight loss, and support and counseling services; the South Beach Diet, a weight-loss program; and Nutrisystem 5-day kit, a 'D' kit that offers individuals with or at risk of type 2 diabetes.
See Also: Average Daily Trade Volume – ADTV
Get a free copy of the Zacks research report on NutriSystem (NTRI)
For more information about research offerings from Zacks Investment Research, visit Zacks.com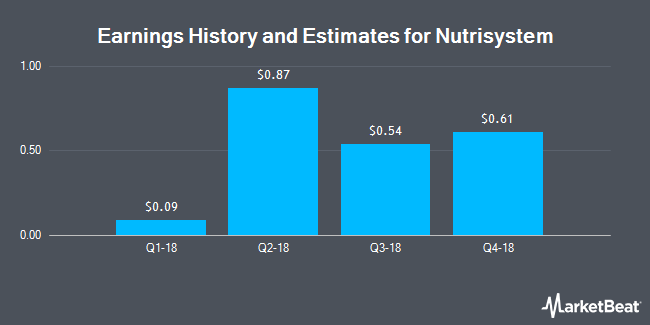 Receive News & Ratings for NutriSystem Daily - Enter your email address below to receive a concise daily summary of the latest news and analysts' ratings for NutriSystem and related companies with MarketBeat.com's FREE daily email newsletter.