Msci Inc (NYSE:MSCI) declared a quarterly dividend on Tuesday, October 30th, NASDAQ reports. Shareholders of record on Friday, November 16th will be paid a dividend of 0.58 per share by the technology company on Friday, November 30th. This represents a $2.32 annualized dividend and a yield of 1.55%. The ex-dividend date of this dividend is Thursday, November 15th.
Msci has increased its dividend payment by an average of 94.3% annually over the last three years and has raised its dividend every year for the last 3 years. Msci has a dividend payout ratio of 44.3% indicating that its dividend is sufficiently covered by earnings. Research analysts expect Msci to earn $5.93 per share next year, which means the company should continue to be able to cover its $2.32 annual dividend with an expected future payout ratio of 39.1%.
Shares of MSCI opened at $149.79 on Friday. The stock has a market cap of $13.37 billion, a price-to-earnings ratio of 29.72, a P/E/G ratio of 2.88 and a beta of 1.09. Msci has a 12 month low of $123.80 and a 12 month high of $184.22. The company has a debt-to-equity ratio of 6.80, a quick ratio of 2.65 and a current ratio of 2.75.
Msci (NYSE:MSCI) last announced its earnings results on Thursday, November 1st. The technology company reported $1.35 EPS for the quarter, topping the Thomson Reuters' consensus estimate of $1.29 by $0.06. The firm had revenue of $357.90 million for the quarter, compared to the consensus estimate of $359.91 million. Msci had a return on equity of 121.45% and a net margin of 29.87%. The business's quarterly revenue was up 11.1% compared to the same quarter last year. During the same period in the previous year, the business earned $1.00 EPS. On average, equities research analysts forecast that Msci will post 5.27 EPS for the current year.
Several research analysts have commented on the company. Barclays cut their target price on Msci from $175.00 to $165.00 and set an "equal weight" rating on the stock in a report on Friday, November 2nd. Cantor Fitzgerald lifted their target price on Msci to $192.00 and gave the stock an "overweight" rating in a report on Friday, August 3rd. Zacks Investment Research raised Msci from a "sell" rating to a "hold" rating in a report on Tuesday, August 7th. Morgan Stanley lifted their target price on Msci from $168.00 to $174.00 and gave the stock an "equal weight" rating in a report on Friday, August 3rd. Finally, BMO Capital Markets assumed coverage on Msci in a report on Wednesday, July 25th. They set an "outperform" rating and a $198.00 target price on the stock. Four research analysts have rated the stock with a hold rating and five have assigned a buy rating to the company's stock. The stock has a consensus rating of "Buy" and a consensus target price of $175.29.
WARNING: This report was originally reported by Week Herald and is the property of of Week Herald. If you are reading this report on another publication, it was illegally stolen and republished in violation of U.S. & international copyright legislation. The original version of this report can be read at https://weekherald.com/2018/11/10/msci-inc-msci-to-issue-0-58-quarterly-dividend.html.
Msci Company Profile
MSCI Inc, together with its subsidiaries, provides investment decision support tools for the clients to manage their investment processes worldwide. The company operates through four segments: Index, Analytics, ESG, and Real Estate. The Index segment primarily provides equity indexes for use in various areas of the investment process, including index-linked product creation and performance benchmarking, as well as portfolio construction and rebalancing, and asset allocation.
Featured Story: Bull Market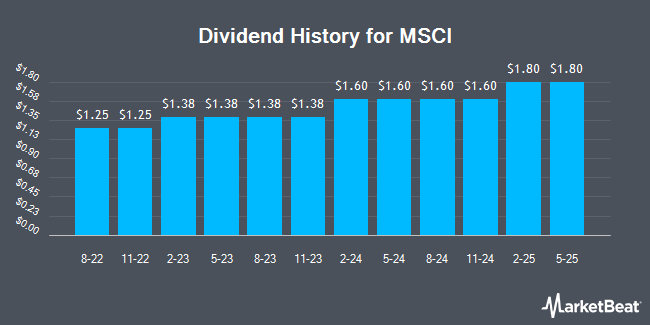 Receive News & Ratings for Msci Daily - Enter your email address below to receive a concise daily summary of the latest news and analysts' ratings for Msci and related companies with MarketBeat.com's FREE daily email newsletter.