51job (NASDAQ:JOBS) posted its quarterly earnings results on Thursday. The company reported $0.69 earnings per share for the quarter, topping the Zacks' consensus estimate of $0.58 by $0.11, Morningstar.com reports. 51job had a net margin of 13.09% and a return on equity of 18.29%. The business had revenue of $139.00 million for the quarter. 51job updated its Q4 2018 guidance to $0.65-0.69 EPS.
Shares of NASDAQ JOBS traded down $0.68 during mid-day trading on Friday, reaching $63.30. The company had a trading volume of 253,749 shares, compared to its average volume of 352,194. 51job has a twelve month low of $52.15 and a twelve month high of $114.63. The company has a market capitalization of $4.14 billion, a PE ratio of 26.39 and a beta of 1.21.
Hedge funds and other institutional investors have recently bought and sold shares of the company. Commonwealth Bank of Australia increased its stake in shares of 51job by 468.7% in the second quarter. Commonwealth Bank of Australia now owns 2,053 shares of the company's stock worth $191,000 after acquiring an additional 1,692 shares during the last quarter. Mount Yale Investment Advisors LLC acquired a new position in shares of 51job in the second quarter worth $224,000. Unigestion Holding SA acquired a new position in shares of 51job in the third quarter worth $224,000. Mitsubishi UFJ Kokusai Asset Management Co. Ltd. acquired a new position in shares of 51job in the second quarter worth $261,000. Finally, Atria Investments LLC acquired a new position in shares of 51job in the second quarter worth $297,000. 41.28% of the stock is currently owned by institutional investors and hedge funds.
Separately, BidaskClub downgraded shares of 51job from a "buy" rating to a "hold" rating in a research note on Friday, October 5th.
COPYRIGHT VIOLATION WARNING: This story was reported by Week Herald and is the property of of Week Herald. If you are accessing this story on another publication, it was stolen and republished in violation of United States and international trademark & copyright laws. The original version of this story can be accessed at https://weekherald.com/2018/11/10/51job-jobs-releases-earnings-results-beats-estimates-by-0-11-eps.html.
51job Company Profile
51job, Inc, through its subsidiaries, provides integrated human resource services in the People's Republic of China. The company offers recruitment advertising services, including online recruitment services through its Websites comprising 51job.com, yingjiesheng.com, 51jingying.com, and lagou.com; and mobile applications that enable job seekers to access their accounts through mobile devices and utilize functions available on their Websites.
See Also: No Load Funds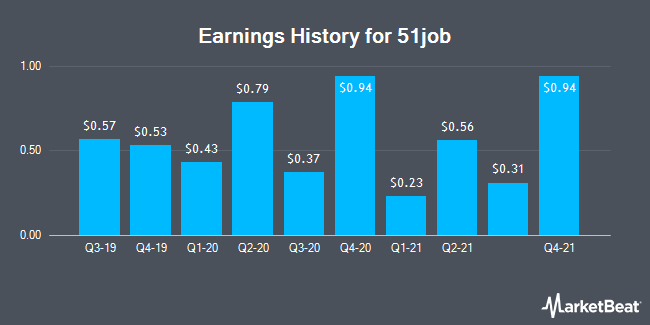 Receive News & Ratings for 51job Daily - Enter your email address below to receive a concise daily summary of the latest news and analysts' ratings for 51job and related companies with MarketBeat.com's FREE daily email newsletter.