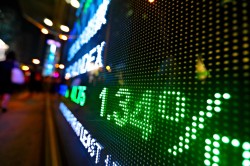 Pyxus International Inc (NYSE:PYX) dropped 4.5% during mid-day trading on Wednesday . The stock traded as low as $24.26 and last traded at $23.68. Approximately 12,391 shares traded hands during mid-day trading, a decline of 100% from the average daily volume of 4,055,412 shares. The stock had previously closed at $24.79.
PYX has been the topic of several research analyst reports. TheStreet upgraded Pyxus International from a "d+" rating to a "c" rating in a report on Wednesday, September 12th. Cann reiterated a "buy" rating on shares of Pyxus International in a report on Thursday, October 11th. They noted that the move was a valuation call.
The company has a debt-to-equity ratio of 3.24, a current ratio of 1.82 and a quick ratio of 0.70. The firm has a market capitalization of $207.92 million, a PE ratio of 19.00 and a beta of 0.31.
An institutional investor recently bought a new position in Pyxus International stock. O Shaughnessy Asset Management LLC bought a new position in Pyxus International Inc (NYSE:PYX) during the third quarter, according to its most recent Form 13F filing with the SEC. The firm bought 12,419 shares of the company's stock, valued at approximately $286,000. O Shaughnessy Asset Management LLC owned approximately 0.14% of Pyxus International at the end of the most recent reporting period. 67.33% of the stock is owned by institutional investors.
COPYRIGHT VIOLATION NOTICE: "Pyxus International (PYX) Shares Down 4.5%" was reported by Week Herald and is owned by of Week Herald. If you are viewing this piece of content on another publication, it was stolen and republished in violation of international trademark & copyright legislation. The legal version of this piece of content can be read at https://weekherald.com/2018/11/07/pyxus-international-pyx-shares-down-4-5.html.
Pyxus International Company Profile (NYSE:PYX)
Pyxus International, Inc, an agricultural company, engages in the provision of various agricultural products, ingredients, and services to businesses and customers. It offers products in the leaf tobacco, e-liquids, industrial hemp, and cannabis industries. The company was formerly known as Alliance One International, Inc and changed its name to Pyxus International, Inc in September 2018.
Recommended Story: What are the most popular ETFs
Receive News & Ratings for Pyxus International Daily - Enter your email address below to receive a concise daily summary of the latest news and analysts' ratings for Pyxus International and related companies with MarketBeat.com's FREE daily email newsletter.