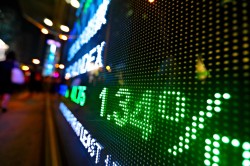 LiveRamp Holdings (NASDAQ:RAMP) Director William J. Henderson sold 28,182 shares of LiveRamp stock in a transaction on Friday, November 2nd. The shares were sold at an average price of $47.63, for a total transaction of $1,342,308.66. The transaction was disclosed in a document filed with the SEC, which is accessible through the SEC website.
Shares of RAMP stock opened at $45.86 on Wednesday. LiveRamp Holdings has a 12 month low of $18.60 and a 12 month high of $51.51.
LiveRamp (NASDAQ:RAMP) last issued its quarterly earnings data on Monday, October 29th. The company reported ($0.14) EPS for the quarter, missing analysts' consensus estimates of $0.03 by ($0.17). The business had revenue of $65.00 million for the quarter, compared to analysts' expectations of $227.11 million. During the same quarter in the prior year, the company earned $0.22 EPS. LiveRamp's quarterly revenue was up 20.4% compared to the same quarter last year.
An institutional investor recently bought a new position in LiveRamp stock. Lathrop Investment Management Corp acquired a new position in LiveRamp Holdings (NASDAQ:RAMP) during the third quarter, according to the company in its most recent filing with the SEC. The fund acquired 7,828 shares of the company's stock, valued at approximately $387,000.
Several research firms recently weighed in on RAMP. Zacks Investment Research lowered shares of LiveRamp from a "hold" rating to a "strong sell" rating in a report on Friday, November 2nd. TheStreet lowered shares of LiveRamp from a "b-" rating to a "c+" rating in a report on Wednesday, October 17th.
WARNING: This piece was posted by Week Herald and is the property of of Week Herald. If you are accessing this piece on another website, it was illegally stolen and reposted in violation of United States & international trademark & copyright law. The legal version of this piece can be accessed at https://weekherald.com/2018/11/07/insider-selling-liveramp-holdings-ramp-director-sells-28182-shares-of-stock.html.
LiveRamp Company Profile
LiveRamp Holdings, Inc provides identity and data connectivity for powering exceptional customer experiences. The company offers IdentityLink, an identity resolution platform that connects people, data, and devices across the physical and digital world, powering privacy-compliant, people-based marketing that allows consumers to better connect with the brands and products they love.
See Also: What is a conference call?

Receive News & Ratings for LiveRamp Daily - Enter your email address below to receive a concise daily summary of the latest news and analysts' ratings for LiveRamp and related companies with MarketBeat.com's FREE daily email newsletter.