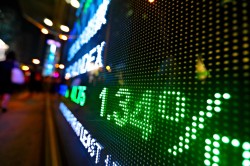 GB Sciences Inc (OTCMKTS:GBLX) CEO John C. Poss bought 99,964 shares of the stock in a transaction on Wednesday, July 11th. The stock was purchased at an average price of $0.41 per share, with a total value of $40,985.24. The acquisition was disclosed in a document filed with the Securities & Exchange Commission, which is available at this hyperlink.
GBLX remained flat at $$0.26 during trading on Wednesday. 179,839 shares of the company's stock traded hands, compared to its average volume of 1,314,307. GB Sciences Inc has a 52 week low of $0.21 and a 52 week high of $1.56.
WARNING: This story was originally published by Week Herald and is owned by of Week Herald. If you are accessing this story on another website, it was stolen and republished in violation of United States and international copyright and trademark laws. The correct version of this story can be viewed at https://weekherald.com/2018/11/07/gb-sciences-inc-gblx-ceo-john-c-poss-purchases-99964-shares.html.
About GB Sciences
GB Sciences, Inc focuses to be a technology and solution company that converts the cannabis plant into medicines, therapies, and treatments for various ailments. The company is developing technologies in plant biology, cultivation and extraction techniques, which are combined with biotechnology; and plans to produce medical-grade cannabis, cannabis concentrates, and cannabinoid therapies.
Featured Article: Earnings Per Share (EPS)

Receive News & Ratings for GB Sciences Daily - Enter your email address below to receive a concise daily summary of the latest news and analysts' ratings for GB Sciences and related companies with MarketBeat.com's FREE daily email newsletter.