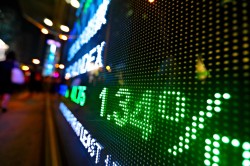 WMIH (NASDAQ:COOP) was upgraded by equities research analysts at Piper Jaffray Companies from an "underweight" rating to a "neutral" rating in a report released on Tuesday, Marketbeat.com reports. Piper Jaffray Companies also issued estimates for WMIH's Q3 2018 earnings at $0.56 EPS, Q4 2018 earnings at $0.47 EPS, FY2018 earnings at $1.90 EPS, Q1 2019 earnings at $0.51 EPS, Q2 2019 earnings at $0.55 EPS, Q4 2019 earnings at $0.54 EPS and FY2019 earnings at $2.08 EPS.
COOP has been the topic of a number of other research reports. Barclays set a $17.00 price objective on WMIH and gave the stock a "sell" rating in a research note on Tuesday, October 16th. Wedbush reissued a "buy" rating and issued a $23.00 price objective on shares of WMIH in a research note on Wednesday, October 17th. Finally, Zacks Investment Research downgraded WMIH from a "hold" rating to a "sell" rating in a research note on Tuesday, October 23rd.
COOP opened at $14.49 on Tuesday. WMIH has a one year low of $7.20 and a one year high of $20.04. The firm has a market capitalization of $256.64 million, a PE ratio of 120.75 and a beta of -1.19.
About WMIH
Mr. Cooper Group Inc provides servicing, origination, and transaction-based services related principally to single-family residences in the United States. It offers home loan servicers focused on delivering various servicing and lending products, services, and technologies. The company provides technology and data enhanced solutions to homebuyers, home sellers, real estate agents, and mortgage companies.
Featured Article: Day Trading
Receive News & Ratings for WMIH Daily - Enter your email address below to receive a concise daily summary of the latest news and analysts' ratings for WMIH and related companies with MarketBeat.com's FREE daily email newsletter.