Synthetic Biologics (NYSEAMERICAN:SYN) is set to announce its earnings results after the market closes on Thursday, November 8th. Analysts expect the company to announce earnings of ($1.32) per share for the quarter.
Synthetic Biologics (NYSEAMERICAN:SYN) last posted its earnings results on Wednesday, August 8th. The company reported ($1.05) earnings per share for the quarter, topping the Thomson Reuters' consensus estimate of ($1.40) by $0.35.
SYN opened at $0.84 on Thursday. Synthetic Biologics has a twelve month low of $0.77 and a twelve month high of $29.22.
Several brokerages have commented on SYN. HC Wainwright reaffirmed a "buy" rating and issued a $35.00 price target on shares of Synthetic Biologics in a research report on Thursday, August 9th.
Zacks Investment Research
raised Synthetic Biologics from a "hold" rating to a "buy" rating and set a $0.25 price target on the stock in a research report on Tuesday, August 14th.
Synthetic Biologics Company Profile
Synthetic Biologics, Inc, a late-stage clinical company, develops therapeutics designed to preserve the microbiome to protect and restore the health of patients. Its lead product candidates are in Phase III development, such as SYN-004 that is designed to protect the gut microbiome from the effects of commonly used intravenous (IV) beta-lactam antibiotics for the prevention of C.
Further Reading: Cost of Debt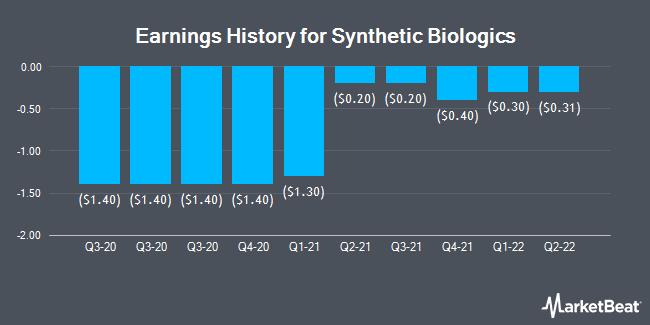 Receive News & Ratings for Synthetic Biologics Daily - Enter your email address below to receive a concise daily summary of the latest news and analysts' ratings for Synthetic Biologics and related companies with MarketBeat.com's FREE daily email newsletter.