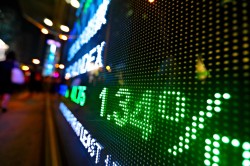 Shares of Ditech Holding Corp (NYSE:DHCP) were down 6.1% during mid-day trading on Wednesday after an insider sold shares in the company. The stock traded as low as $1.03 and last traded at $1.08. Approximately 1,975,533 shares traded hands during mid-day trading, an increase of 4,189% from the average daily volume of 46,063 shares. The stock had previously closed at $1.15.
Specifically, major shareholder Fpa Funds Trust sold 28,436 shares of the company's stock in a transaction dated Wednesday, October 24th. The shares were sold at an average price of $2.51, for a total value of $71,374.36. The sale was disclosed in a legal filing with the Securities & Exchange Commission, which is available through this hyperlink. Insiders sold 197,936 shares of company stock valued at $441,489 over the last ninety days. Corporate insiders own 31.98% of the company's stock.
The company has a current ratio of 12.88, a quick ratio of 12.88 and a debt-to-equity ratio of 126.29.
Ditech (NYSE:DHCP) last announced its earnings results on Thursday, August 9th. The company reported ($9.97) EPS for the quarter. The firm had revenue of $198.53 million for the quarter.
A hedge fund recently bought a new stake in Ditech stock. Phoenix Investment Adviser LLC bought a new stake in Ditech Holding Corp (NYSE:DHCP) in the second quarter, according to its most recent disclosure with the Securities & Exchange Commission. The institutional investor bought 360,917 shares of the company's stock, valued at approximately $1,884,000. Ditech comprises approximately 3.4% of Phoenix Investment Adviser LLC's holdings, making the stock its 3rd largest holding. Phoenix Investment Adviser LLC owned 7.80% of Ditech at the end of the most recent reporting period. Institutional investors own 39.04% of the company's stock.
Ditech Company Profile (NYSE:DHCP)
Ditech Holding Corporation operates as an independent servicer and originator of mortgage loans, and servicer of reverse mortgage loans. The company operates through three segments: Servicing, Originations, and Reverse Mortgage. The Servicing segment performs servicing for mortgage loan portfolio, on behalf of third-party credit owners of mortgage loans, as well as performs subservicing for third-party owners.
Further Reading: Trading Strategy Examples and Plans
Receive News & Ratings for Ditech Daily - Enter your email address below to receive a concise daily summary of the latest news and analysts' ratings for Ditech and related companies with MarketBeat.com's FREE daily email newsletter.