Liberum Capital reissued their buy rating on shares of Redrow (LON:RDW) in a research report report published on Tuesday morning.
RDW has been the subject of a number of other reports. JPMorgan Chase & Co. reiterated an overweight rating on shares of Redrow in a report on Tuesday, September 25th. UBS Group reiterated a buy rating and set a GBX 765 ($10.00) price objective on shares of Redrow in a report on Tuesday, August 14th. Berenberg Bank initiated coverage on shares of Redrow in a report on Wednesday, July 25th. They set a buy rating and a GBX 650 ($8.49) price objective for the company. Shore Capital reiterated a hold rating on shares of Redrow in a report on Monday, September 3rd. Finally, Deutsche Bank reduced their price objective on shares of Redrow from GBX 672 ($8.78) to GBX 622 ($8.13) and set a hold rating for the company in a report on Thursday, August 30th. Four equities research analysts have rated the stock with a hold rating and eight have assigned a buy rating to the company. The company presently has an average rating of Buy and an average target price of GBX 690.75 ($9.03).
Redrow stock opened at GBX 526.50 ($6.88) on Tuesday. Redrow has a 52 week low of GBX 488 ($6.38) and a 52 week high of GBX 673.50 ($8.80).
The company also recently declared a dividend, which will be paid on Tuesday, November 13th. Investors of record on Thursday, September 20th will be issued a dividend of GBX 19 ($0.25) per share. The ex-dividend date is Thursday, September 20th. This is a boost from Redrow's previous dividend of $9.00. This represents a yield of 3.49%.
In related news, insider Barbara Richmond sold 29,903 shares of the business's stock in a transaction dated Monday, September 17th. The shares were sold at an average price of GBX 591 ($7.72), for a total transaction of £176,726.73 ($230,924.77).
About Redrow
Redrow plc focuses on housebuilding activities in the United Kingdom. The company acquires land; and develops residential housing properties. Redrow plc was founded in 1974 and is based in Flintshire, the United Kingdom.
Recommended Story: How do investors use RSI to grade stocks?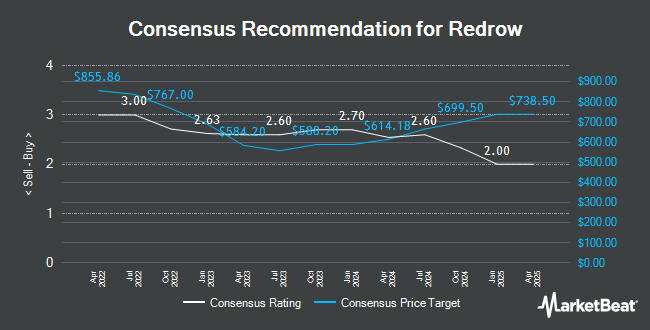 Receive News & Ratings for Redrow Daily - Enter your email address below to receive a concise daily summary of the latest news and analysts' ratings for Redrow and related companies with MarketBeat.com's FREE daily email newsletter.