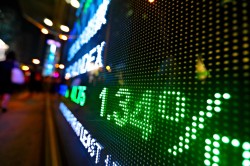 Public Employees Retirement Association of Colorado bought a new position in Brookfield Property Reit Inc (NASDAQ:BPR) in the third quarter, Holdings Channel reports. The fund bought 39,191 shares of the company's stock, valued at approximately $820,000.
Separately, Levin Capital Strategies L.P. bought a new stake in shares of Brookfield Property Reit during the third quarter worth approximately $384,000. Institutional investors own 0.16% of the company's stock.
BPR opened at $19.17 on Wednesday. The company has a quick ratio of 0.06, a current ratio of 0.06 and a debt-to-equity ratio of 0.02. Brookfield Property Reit Inc has a fifty-two week low of $18.72 and a fifty-two week high of $21.16.
Brookfield Property Reit Profile
Brookfield Property REIT Inc ("BPR") is a subsidiary of Brookfield Property Partners L.P., (NASDAQ: BPY; TSX: BPY.UN) ("BPY") one of the world's largest commercial real estate companies, with approximately $90 billion in total assets. BPR was created as a public security that is intended to offer economic equivalence to an investment in BPY in the form of a U.S.
Featured Story: What does earnings per share mean?

Want to see what other hedge funds are holding BPR? Visit HoldingsChannel.com to get the latest 13F filings and insider trades for Brookfield Property Reit Inc (NASDAQ:BPR).
Receive News & Ratings for Brookfield Property Reit Daily - Enter your email address below to receive a concise daily summary of the latest news and analysts' ratings for Brookfield Property Reit and related companies with MarketBeat.com's FREE daily email newsletter.