MasTec (NYSE:MTZ) will be releasing its earnings data after the market closes on Thursday, November 1st. Analysts expect MasTec to post earnings of $1.19 per share for the quarter. Persons interested in listening to the company's earnings conference call can do so using this link.
MasTec (NYSE:MTZ) last issued its earnings results on Thursday, August 2nd. The construction company reported $1.04 EPS for the quarter, topping analysts' consensus estimates of $1.03 by $0.01. The firm had revenue of $1.62 billion during the quarter, compared to the consensus estimate of $1.79 billion. MasTec had a net margin of 5.05% and a return on equity of 14.84%. The company's revenue was down 14.4% compared to the same quarter last year. During the same quarter in the previous year, the firm posted $1.03 earnings per share. On average, analysts expect MasTec to post $4 EPS for the current fiscal year and $4 EPS for the next fiscal year.
Shares of MTZ stock opened at $43.06 on Wednesday. The company has a debt-to-equity ratio of 1.07, a current ratio of 1.82 and a quick ratio of 1.74. The firm has a market cap of $3.31 billion, a P/E ratio of 15.77, a PEG ratio of 1.46 and a beta of 1.56. MasTec has a 12 month low of $39.83 and a 12 month high of $55.53.
In related news, EVP Cardenas Alberto De sold 10,000 shares of the business's stock in a transaction on Friday, August 3rd. The shares were sold at an average price of $48.00, for a total transaction of $480,000.00. Following the completion of the transaction, the executive vice president now owns 101,755 shares in the company, valued at $4,884,240. The sale was disclosed in a legal filing with the SEC, which is accessible through
the SEC website
. Insiders own 20.10% of the company's stock.
A number of brokerages recently commented on MTZ. Canaccord Genuity reiterated a "buy" rating and set a $65.00 target price on shares of MasTec in a research note on Friday, August 3rd. ValuEngine downgraded shares of MasTec from a "hold" rating to a "sell" rating in a research note on Thursday, September 6th. Zacks Investment Research downgraded shares of MasTec from a "buy" rating to a "hold" rating in a research note on Thursday, August 9th. Finally, Robert W. Baird upgraded shares of MasTec from a "neutral" rating to an "outperform" rating and set a $51.00 target price for the company in a research note on Tuesday, August 7th. One analyst has rated the stock with a hold rating and eleven have issued a buy rating to the company's stock. The company has a consensus rating of "Buy" and a consensus price target of $60.55.
About MasTec
MasTec, Inc, an infrastructure construction company, provides engineering, building, installation, maintenance, and upgrade services for communications, energy, and utility infrastructure primarily in the United States and Canada. It operates through five segments: Communications, Oil and Gas, Electrical Transmission, Power Generation and Industrial, and Other.
Read More: What is intrinsic value?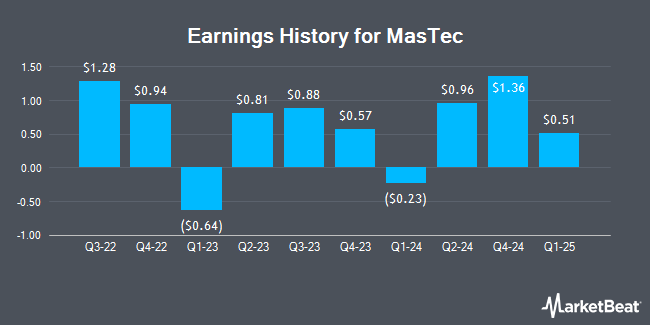 Receive News & Ratings for MasTec Daily - Enter your email address below to receive a concise daily summary of the latest news and analysts' ratings for MasTec and related companies with MarketBeat.com's FREE daily email newsletter.