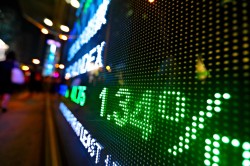 LiveRamp Holdings (NASDAQ:RAMP)'s share price was up 7.9% during mid-day trading on Tuesday . The stock traded as high as $45.95 and last traded at $44.99. Approximately 1,516,600 shares were traded during trading, an increase of 74% from the average daily volume of 871,263 shares. The stock had previously closed at $41.71.
Separately, TheStreet cut LiveRamp from a "b-" rating to a "c+" rating in a research note on Wednesday, October 17th.
LiveRamp (NASDAQ:RAMP) last posted its earnings results on Monday, October 29th. The company reported ($0.14) earnings per share (EPS) for the quarter, missing analysts' consensus estimates of $0.03 by ($0.17). The business had revenue of $65.00 million during the quarter, compared to the consensus estimate of $227.11 million. The business's revenue was up 20.4% compared to the same quarter last year. During the same quarter last year, the firm earned $0.22 EPS.
A hedge fund recently bought a new stake in LiveRamp stock. Oregon Public Employees Retirement Fund purchased a new stake in shares of LiveRamp Holdings (NASDAQ:RAMP) during the 3rd quarter, according to its most recent filing with the SEC. The institutional investor purchased 30,395 shares of the company's stock, valued at approximately $1,502,000.
About LiveRamp (NASDAQ:RAMP)
LiveRamp Holdings, Inc provides identity and data connectivity for powering exceptional customer experiences. The company offers IdentityLink, an identity resolution platform that connects people, data, and devices across the physical and digital world, powering privacy-compliant, people-based marketing that allows consumers to better connect with the brands and products they love.
See Also: Hedge Funds – Risk or Reward?

Receive News & Ratings for LiveRamp Daily - Enter your email address below to receive a concise daily summary of the latest news and analysts' ratings for LiveRamp and related companies with MarketBeat.com's FREE daily email newsletter.