Horizon Technology Finance (NASDAQ:HRZN) released its quarterly earnings results on Tuesday. The investment management company reported $0.30 EPS for the quarter, topping the Zacks' consensus estimate of $0.29 by $0.01, MarketWatch Earnings reports. The business had revenue of $7.80 million for the quarter, compared to analyst estimates of $7.70 million. Horizon Technology Finance had a return on equity of 9.41% and a net margin of 39.15%.
HRZN traded up $0.49 during mid-day trading on Wednesday, reaching $10.86. The stock had a trading volume of 109,372 shares, compared to its average volume of 93,777. The firm has a market capitalization of $117.95 million, a price-to-earnings ratio of 10.14 and a beta of 0.86. Horizon Technology Finance has a 52 week low of $9.92 and a 52 week high of $11.97.
A number of research firms recently commented on HRZN. Keefe, Bruyette & Woods lowered Horizon Technology Finance from a "market perform" rating to an "underperform" rating and decreased their price target for the stock from $10.50 to $10.00 in a research report on Sunday, October 21st. National Securities restated a "neutral" rating and set a $11.00 price target on shares of Horizon Technology Finance in a research report on Monday, August 6th. Zacks Investment Research lowered Horizon Technology Finance from a "hold" rating to a "sell" rating in a research report on Friday, August 3rd. Compass Point lowered Horizon Technology Finance from a "neutral" rating to a "sell" rating in a research report on Wednesday, August 1st. Finally, TheStreet upgraded Horizon Technology Finance from a "c" rating to a "b-" rating in a research report on Tuesday, July 10th. Four investment analysts have rated the stock with a sell rating, three have issued a hold rating and one has given a buy rating to the company's stock. Horizon Technology Finance presently has a consensus rating of "Hold" and an average price target of $11.25.
Horizon Technology Finance Company Profile
Horizon Technology Finance Corporation is a business development company specializing in lending and and investing in development-stage investments. It focuses on making secured debt and venture lending investments to venture capital backed companies in the technology, life science, healthcare information and services, and cleantech industries.
See Also: What is the Dow Jones Industrial Average (DJIA)?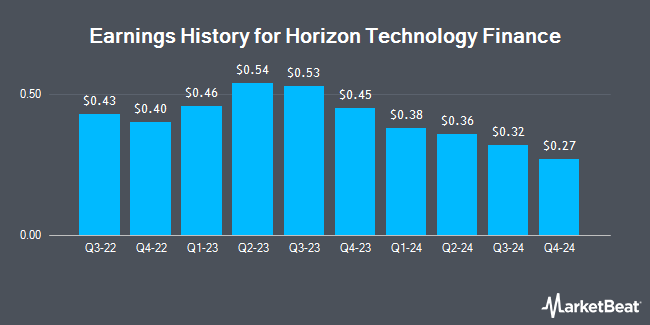 Receive News & Ratings for Horizon Technology Finance Daily - Enter your email address below to receive a concise daily summary of the latest news and analysts' ratings for Horizon Technology Finance and related companies with MarketBeat.com's FREE daily email newsletter.