Healthcare Realty Trust Inc (NYSE:HR) announced a quarterly dividend on Wednesday, October 31st, Wall Street Journal reports. Shareholders of record on Thursday, November 15th will be paid a dividend of 0.30 per share by the real estate investment trust on Friday, November 30th. This represents a $1.20 annualized dividend and a yield of 4.31%. The ex-dividend date of this dividend is Wednesday, November 14th.
Healthcare Realty Trust has a payout ratio of 75.5% indicating that its dividend is currently covered by earnings, but may not be in the future if the company's earnings decline. Equities analysts expect Healthcare Realty Trust to earn $1.65 per share next year, which means the company should continue to be able to cover its $1.20 annual dividend with an expected future payout ratio of 72.7%.
NYSE:HR traded down $1.07 during trading hours on Wednesday, hitting $27.86. The stock had a trading volume of 1,226,098 shares, compared to its average volume of 954,059. Healthcare Realty Trust has a one year low of $26.09 and a one year high of $33.98. The company has a debt-to-equity ratio of 0.76, a quick ratio of 0.11 and a current ratio of 0.11. The company has a market capitalization of $3.55 billion, a PE ratio of 18.21, a PEG ratio of 4.51 and a beta of 0.15.
Healthcare Realty Trust (NYSE:HR) last issued its earnings results on Thursday, August 2nd. The real estate investment trust reported $0.30 EPS for the quarter, missing the Thomson Reuters' consensus estimate of $0.40 by ($0.10). Healthcare Realty Trust had a net margin of 2.95% and a return on equity of 0.72%. The firm had revenue of $111.60 million during the quarter, compared to the consensus estimate of $111.00 million. During the same period in the previous year, the company posted $0.39 EPS. The firm's revenue for the quarter was up 6.0% on a year-over-year basis. On average, sell-side analysts forecast that Healthcare Realty Trust will post 1.59 earnings per share for the current year.
In related news, EVP John M. Bryant, Jr. sold 2,561 shares of the firm's stock in a transaction on Thursday, August 9th. The shares were sold at an average price of $30.56, for a total value of $78,264.16. Following the completion of the transaction, the executive vice president now owns 146,795 shares of the company's stock, valued at $4,486,055.20. The transaction was disclosed in a legal filing with the SEC, which can be accessed through the SEC website. 1.79% of the stock is currently owned by company insiders.
Several equities research analysts have recently issued reports on HR shares. ValuEngine raised shares of Healthcare Realty Trust from a "sell" rating to a "hold" rating in a research report on Thursday, July 5th. Zacks Investment Research raised shares of Healthcare Realty Trust from a "sell" rating to a "hold" rating in a research report on Friday, August 10th. Morgan Stanley downgraded shares of Healthcare Realty Trust from an "overweight" rating to an "equal weight" rating and lowered their price objective for the stock from $29.00 to $28.00 in a research report on Thursday, August 16th. Mizuho reissued a "hold" rating and set a $28.00 price objective on shares of Healthcare Realty Trust in a research report on Monday, August 13th. Finally, Raymond James started coverage on shares of Healthcare Realty Trust in a research report on Thursday, October 18th. They set an "underperform" rating for the company. Two research analysts have rated the stock with a sell rating, eight have issued a hold rating and one has issued a buy rating to the company. The company currently has an average rating of "Hold" and an average target price of $29.86.
Healthcare Realty Trust Company Profile
Healthcare Realty Trust is a real estate investment trust that integrates owning, managing, financing and developing income-producing real estate properties associated primarily with the delivery of outpatient healthcare services throughout the United States. As of June 30, 2018, the Company owned 201 real estate properties in 27 states totaling 14.9 million square feet and was valued at approximately $5.0 billion.
See Also: What is a Tariff?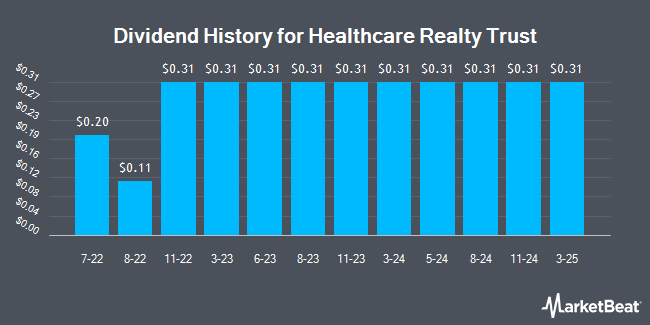 Receive News & Ratings for Healthcare Realty Trust Daily - Enter your email address below to receive a concise daily summary of the latest news and analysts' ratings for Healthcare Realty Trust and related companies with MarketBeat.com's FREE daily email newsletter.