Donegal Group (NASDAQ:DGICA) released its earnings results on Tuesday. The insurance provider reported ($0.03) earnings per share (EPS) for the quarter, missing the consensus estimate of $0.11 by ($0.14), MarketWatch Earnings reports. Donegal Group had a negative return on equity of 2.36% and a negative net margin of 1.92%. The company had revenue of $196.44 million for the quarter, compared to the consensus estimate of $195.80 million.
NASDAQ DGICA traded up $0.26 during trading on Wednesday, reaching $13.69. 16,855 shares of the company's stock were exchanged, compared to its average volume of 16,287. The company has a market cap of $384.76 million, a PE ratio of 45.64 and a beta of 0.46. The company has a quick ratio of 0.43, a current ratio of 0.43 and a debt-to-equity ratio of 0.15. Donegal Group has a fifty-two week low of $13.20 and a fifty-two week high of $18.25.
The firm also recently declared a quarterly dividend, which will be paid on Thursday, November 15th. Shareholders of record on Thursday, November 1st will be given a dividend of $0.1425 per share. This represents a $0.57 dividend on an annualized basis and a yield of 4.16%. The ex-dividend date is Wednesday, October 31st. Donegal Group's dividend payout ratio (DPR) is presently 190.00%.
Several analysts recently issued reports on DGICA shares.
Zacks Investment Research
upgraded Donegal Group from a "strong sell" rating to a "hold" rating in a report on Tuesday, September 18th. BidaskClub lowered Donegal Group from a "hold" rating to a "sell" rating in a report on Thursday, July 19th. Finally, Boenning Scattergood reissued a "hold" rating on shares of Donegal Group in a research report on Tuesday, July 31st. One investment analyst has rated the stock with a sell rating, three have assigned a hold rating and one has issued a buy rating to the company. Donegal Group currently has an average rating of "Hold" and a consensus price target of $19.00.
In other Donegal Group news, Director Patricia A. Gilmartin sold 8,229 shares of the business's stock in a transaction that occurred on Monday, August 27th. The stock was sold at an average price of $14.65, for a total transaction of $120,554.85. Following the transaction, the director now owns 500 shares of the company's stock, valued at $7,325. The sale was disclosed in a document filed with the SEC, which is available through this link. 13.13% of the stock is owned by insiders.
Donegal Group Company Profile
Donegal Group Inc, an insurance holding company, provides property and casualty insurance to businesses and individuals in the Mid-Atlantic, Midwestern, New England, and southern states. It operates through four segments: Investment Function, Personal Lines of Insurance, Commercial Lines of Insurance, and Investment in DFSC.
Featured Article: Bond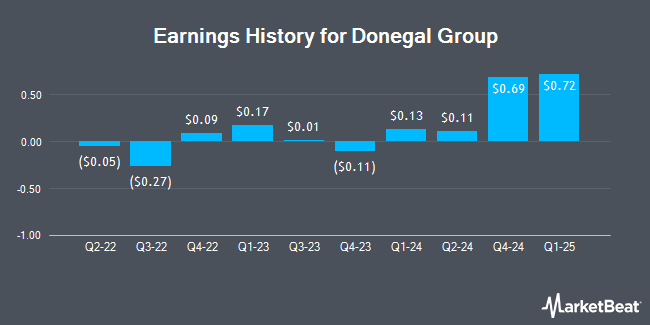 Receive News & Ratings for Donegal Group Daily - Enter your email address below to receive a concise daily summary of the latest news and analysts' ratings for Donegal Group and related companies with MarketBeat.com's FREE daily email newsletter.