ConvergeOne (NASDAQ:CVON) released its quarterly earnings results on Tuesday. The company reported $0.31 earnings per share for the quarter, beating the Thomson Reuters' consensus estimate of $0.22 by $0.09, MarketWatch Earnings reports. The company had revenue of $404.75 million for the quarter, compared to analysts' expectations of $392.71 million.
NASDAQ:CVON traded down $0.01 during midday trading on Wednesday, hitting $9.43. 21,799 shares of the company traded hands, compared to its average volume of 47,831. ConvergeOne has a 12-month low of $7.95 and a 12-month high of $10.83. The firm has a market capitalization of $687.58 million, a PE ratio of 24.82 and a beta of 0.55.
Separately, Zacks Investment Research upgraded ConvergeOne from a "hold" rating to a "buy" rating and set a $11.00 price target on the stock in a report on Wednesday, July 11th. One equities research analyst has rated the stock with a sell rating, one has issued a hold rating and six have assigned a buy rating to the stock. ConvergeOne has a consensus rating of "Buy" and a consensus price target of $11.50.
An institutional investor recently bought a new position in ConvergeOne stock. Bank of New York Mellon Corp purchased a new stake in shares of ConvergeOne Holdings Inc (NASDAQ:CVON) during the 2nd quarter, according to the company in its most recent 13F filing with the SEC. The institutional investor purchased 69,295 shares of the company's stock, valued at approximately $651,000. Bank of New York Mellon Corp owned 0.09% of ConvergeOne as of its most recent filing with the SEC. 18.97% of the stock is owned by hedge funds and other institutional investors.
ConvergeOne Company Profile
ConvergeOne Holdings, Inc provides collaboration and technology solutions for large and medium enterprises in the United States. The company offers unified communications solutions, including communications applications, such as voice, email, presence, chat/text, and video technologies; voice and text messaging solutions; mobility and bring your own device solutions for business continuity with the seamless connection of mobile, landline, cellular, and Wi-Fi enabled devices; conferencing solutions, as well as streaming and recording, and security services; and software integration services.
Recommended Story: Analyzing a company's cash flow statement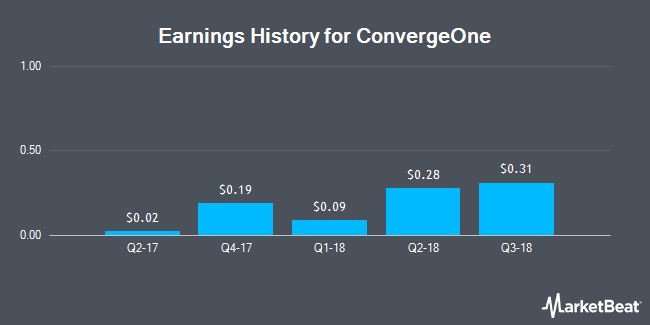 Receive News & Ratings for ConvergeOne Daily - Enter your email address below to receive a concise daily summary of the latest news and analysts' ratings for ConvergeOne and related companies with MarketBeat.com's FREE daily email newsletter.