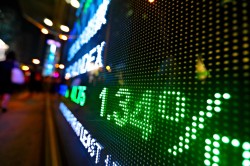 Amplify Energy (OTCMKTS:AMPY) is scheduled to be announcing its earnings results before the market opens on Wednesday, November 7th.
Amplify Energy (OTCMKTS:AMPY) last announced its earnings results on Wednesday, August 8th. The company reported ($1.01) EPS for the quarter. The firm had revenue of $90.99 million during the quarter.
Shares of AMPY stock opened at $9.30 on Wednesday. The company has a debt-to-equity ratio of 0.84, a quick ratio of 0.65 and a current ratio of 0.65. Amplify Energy has a 52 week low of $9.00 and a 52 week high of $12.20.
About Amplify Energy
Amplify Energy Corp., through its subsidiary, Amplify Energy Operating LLC, engages in the acquisition, development, exploitation, and production of oil and natural gas properties in the United States. The company's properties consist of operated and non-operated working interests in producing and undeveloped leasehold acreage, as well as working interests in identified producing wells located in Texas, Louisiana, Wyoming, and offshore Southern California.
Further Reading: Understanding Average Daily Trade Volume

Receive News & Ratings for Amplify Energy Daily - Enter your email address below to receive a concise daily summary of the latest news and analysts' ratings for Amplify Energy and related companies with MarketBeat.com's FREE daily email newsletter.