Hilltop Holdings Inc. (NYSE:HTH) declared a quarterly dividend on Monday, October 29th, Wall Street Journal reports. Stockholders of record on Thursday, November 15th will be given a dividend of 0.07 per share by the financial services provider on Friday, November 30th. This represents a $0.28 dividend on an annualized basis and a dividend yield of 1.44%. The ex-dividend date is Wednesday, November 14th.
NYSE:HTH opened at $19.51 on Tuesday. Hilltop has a fifty-two week low of $17.16 and a fifty-two week high of $28.32. The firm has a market cap of $1.78 billion, a P/E ratio of 11.75 and a beta of 0.96. The company has a debt-to-equity ratio of 0.03, a quick ratio of 0.85 and a current ratio of 0.98.
Hilltop (NYSE:HTH) last released its quarterly earnings results on Thursday, October 25th. The financial services provider reported $0.38 earnings per share for the quarter, missing the Thomson Reuters' consensus estimate of $0.44 by ($0.06). Hilltop had a net margin of 6.55% and a return on equity of 7.00%. The company had revenue of $380.04 million for the quarter, compared to analysts' expectations of $385.07 million. Sell-side analysts forecast that Hilltop will post 1.51 EPS for the current year.
In other Hilltop news, insider Keith E. Bornemann sold 1,500 shares of the stock in a transaction on Thursday, August 30th. The stock was sold at an average price of $20.68, for a total value of $31,020.00. Following the sale, the insider now owns 8,270 shares in the company, valued at $171,023.60. The transaction was disclosed in a legal filing with the SEC, which is accessible through
the SEC website
. Corporate insiders own 22.30% of the company's stock.
Several research firms recently weighed in on HTH. Zacks Investment Research upgraded Hilltop from a "strong sell" rating to a "hold" rating in a report on Monday, July 2nd. ValuEngine upgraded Hilltop from a "strong sell" rating to a "sell" rating in a report on Friday, August 17th. Compass Point upgraded Hilltop from a "neutral" rating to a "buy" rating and set a $25.00 price target on the stock in a report on Tuesday, July 31st. SunTrust Banks set a $24.00 price target on Hilltop and gave the company a "buy" rating in a report on Monday. Finally, Raymond James upgraded Hilltop from an "underperform" rating to a "market perform" rating in a report on Monday. Two analysts have rated the stock with a sell rating, three have issued a hold rating and two have issued a buy rating to the stock. Hilltop presently has a consensus rating of "Hold" and an average price target of $26.60.
Hilltop Company Profile
Hilltop Holdings Inc provides banking and financial products and services. Its Banking segment offers savings, checking, interest-bearing checking, and money market accounts; certificates of deposit; lines and letters of credit, home improvement and equity loans, loans for purchasing and carrying securities, equipment loans and leases, agricultural and commercial real estate loans, and other loans; and commercial, industrial, and single family residential mortgage loans.
Recommended Story: How can investors find ex-dividend dates?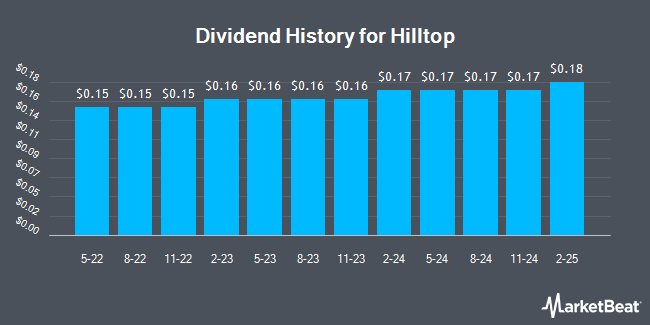 Receive News & Ratings for Hilltop Daily - Enter your email address below to receive a concise daily summary of the latest news and analysts' ratings for Hilltop and related companies with MarketBeat.com's FREE daily email newsletter.