CNO Financial Group (NYSE:CNO) will be issuing its quarterly earnings data after the market closes on Wednesday, October 31st. Analysts expect the company to announce earnings of $0.52 per share for the quarter.
CNO Financial Group (NYSE:CNO) last announced its earnings results on Wednesday, August 1st. The financial services provider reported $0.49 earnings per share for the quarter, missing the Thomson Reuters' consensus estimate of $0.50 by ($0.01). CNO Financial Group had a net margin of 5.12% and a return on equity of 7.11%. The firm had revenue of $1.05 billion for the quarter, compared to the consensus estimate of $1.04 billion. During the same period in the prior year, the business earned $0.45 EPS. The company's quarterly revenue was down 1.0% compared to the same quarter last year. On average, analysts expect CNO Financial Group to post $2 EPS for the current fiscal year and $2 EPS for the next fiscal year.
Shares of CNO stock opened at $18.41 on Tuesday. CNO Financial Group has a fifty-two week low of $18.16 and a fifty-two week high of $26.47. The stock has a market cap of $3.03 billion, a P/E ratio of 9.11 and a beta of 1.12. The company has a quick ratio of 0.14, a current ratio of 0.14 and a debt-to-equity ratio of 0.58.
In other news, EVP Bruce K. Baude sold 33,000 shares of the company's stock in a transaction on Tuesday, August 7th. The stock was sold at an average price of $22.17, for a total transaction of $731,610.00. Following the completion of the sale, the executive vice president now directly owns 52,047 shares of the company's stock, valued at $1,153,881.99. The sale was disclosed in a document filed with the SEC, which is available at
the SEC website
. Corporate insiders own 2.30% of the company's stock.
CNO has been the subject of several research reports. Zacks Investment Research raised CNO Financial Group from a "hold" rating to a "buy" rating and set a $23.00 target price for the company in a research note on Wednesday, October 3rd. ValuEngine cut CNO Financial Group from a "sell" rating to a "strong sell" rating in a research note on Monday, July 2nd. Finally, Keefe, Bruyette & Woods reaffirmed a "hold" rating and set a $24.00 target price on shares of CNO Financial Group in a report on Friday, August 17th. Two analysts have rated the stock with a sell rating, three have given a hold rating and two have issued a buy rating to the stock. The company currently has an average rating of "Hold" and an average target price of $23.75.
CNO Financial Group Company Profile
CNO Financial Group, Inc, through its subsidiaries, develops, markets, and administers health insurance, annuity, individual life insurance, and other insurance products for senior and middle-income markets in the United States. It operates through Bankers Life, Washington National, Colonial Penn, and Long-Term Care in Run Off segments.
Featured Article: Return on Investment (ROI) Defined, Explained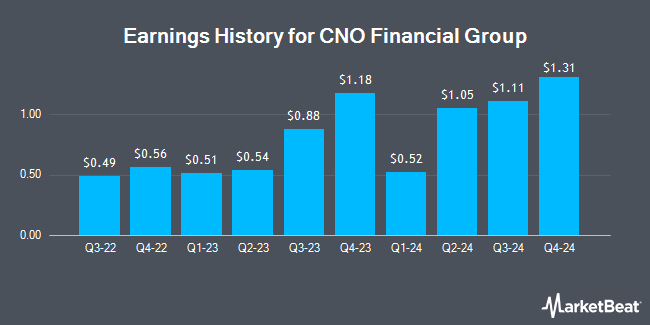 Receive News & Ratings for CNO Financial Group Daily - Enter your email address below to receive a concise daily summary of the latest news and analysts' ratings for CNO Financial Group and related companies with MarketBeat.com's FREE daily email newsletter.