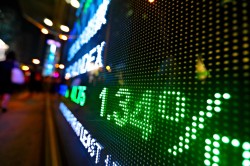 Wall Street brokerages predict that PeerStream (NASDAQ:PEER) will report ($0.03) earnings per share for the current quarter, Zacks Investment Research reports. Zero analysts have provided estimates for PeerStream's earnings. The firm is scheduled to report its next earnings results on Monday, November 5th.
On average, analysts expect that PeerStream will report full year earnings of ($0.13) per share for the current fiscal year. Zacks' earnings per share averages are a mean average based on a survey of sell-side research analysts that cover PeerStream.
PeerStream (NASDAQ:PEER) last released its quarterly earnings data on Monday, August 6th. The company reported ($0.05) earnings per share (EPS) for the quarter, beating the consensus estimate of ($0.17) by $0.12. The business had revenue of $7.39 million during the quarter, compared to the consensus estimate of $6.49 million.
PEER stock
remained flat at $$5.00 during midday trading on Tuesday. The company had a trading volume of 15 shares, compared to its average volume of 1,989. PeerStream has a fifty-two week low of $1.50 and a fifty-two week high of $8.31.
PeerStream Company Profile
PeerStream, Inc builds decentralized technologies for multimedia social apps and business communication solutions worldwide. It develops PeerStream Protocol, a decentralized multimedia content delivery solution building on blockchain technology. The company offers social video applications, such as Paltalk, a real-time and interactive social networking applications provider; Camfrog, a cross-platform video chat community; and Backchannel, a blockchain-based secure video messaging app.
Read More: How to Calculate Compound Annual Growth Rate (CAGR)
Get a free copy of the Zacks research report on PeerStream (PEER)
For more information about research offerings from Zacks Investment Research, visit Zacks.com
Receive News & Ratings for PeerStream Daily - Enter your email address below to receive a concise daily summary of the latest news and analysts' ratings for PeerStream and related companies with MarketBeat.com's FREE daily email newsletter.