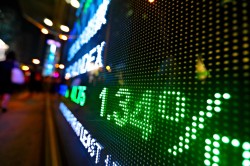 Americas Silver Corp (TSE:USA) hit a new 52-week low on Tuesday . The stock traded as low as C$2.72 and last traded at C$2.72, with a volume of 42190 shares trading hands. The stock had previously closed at C$2.89.
Americas Silver (TSE:USA) last issued its quarterly earnings results on Monday, August 13th. The company reported C$0.04 earnings per share for the quarter, missing the consensus estimate of C$0.06 by C($0.02). The firm had revenue of C$22.39 million during the quarter, compared to the consensus estimate of C$35.11 million.
About Americas Silver (TSE:USA)
Americas Silver Corporation engages in the acquisition, evaluation, exploration, development, and operation of precious metals and polymetallic mineral properties in the Americas. It principally owns 100% interests in the Nuestra Señora silver-zinc-copper-lead mine, San Rafael silver-zinc-lead mine, and Zone 120 silver-copper exploration project located in Sinaloa, Mexico.
Featured Story: How dollar cost averaging works

Receive News & Ratings for Americas Silver Daily - Enter your email address below to receive a concise daily summary of the latest news and analysts' ratings for Americas Silver and related companies with MarketBeat.com's FREE daily email newsletter.