Shares of South32 Ltd (LON:S32) have been assigned an average recommendation of "Hold" from the eight research firms that are presently covering the firm, Marketbeat.com reports. One investment analyst has rated the stock with a sell recommendation, four have assigned a hold recommendation and three have assigned a buy recommendation to the company. The average 1-year price target among analysts that have issued ratings on the stock in the last year is GBX 216 ($2.82).
S32 has been the subject of a number of recent research reports. Deutsche Bank increased their price objective on shares of South32 from GBX 235 ($3.07) to GBX 250 ($3.27) and gave the company a "buy" rating in a report on Tuesday, October 2nd. Citigroup raised shares of South32 to a "buy" rating and increased their price target for the company from GBX 205 ($2.68) to GBX 230 ($3.01) in a research note on Friday, August 24th. UBS Group reissued a "neutral" rating on shares of South32 in a research note on Thursday, September 6th. Finally, Barclays reissued an "overweight" rating on shares of South32 in a research note on Friday, October 12th.
S32 stock traded down GBX 6 ($0.08) during mid-day trading on Thursday, reaching GBX 200 ($2.61). The company's stock had a trading volume of 1,901,505 shares, compared to its average volume of 3,660,000. South32 has a fifty-two week low of GBX 143.25 ($1.87) and a fifty-two week high of GBX 236 ($3.08).
The company also recently declared a dividend, which was paid on Thursday, October 11th. Stockholders of record on Thursday, September 13th were paid a $0.06 dividend. The ex-dividend date of this dividend was Thursday, September 13th. This represents a dividend yield of 2.49%.
South32 Company Profile
South32 Limited operates as a diversified metals and mining company primarily in Australia, Southern Africa, and South America. The company has a portfolio of assets producing alumina, aluminum, bauxite, energy and metallurgical coal, manganese ore and alloy, laterite ferronickel, silver, lead, and zinc.
Featured Story: Asset Allocation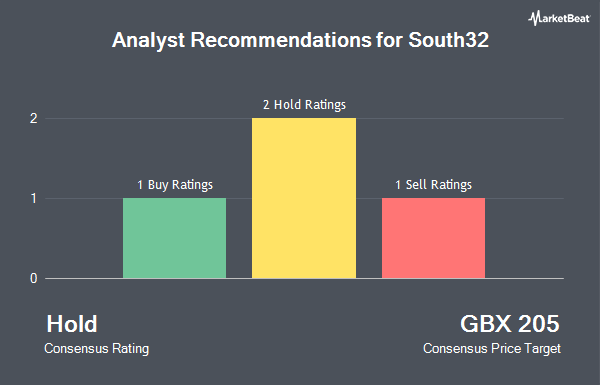 Receive News & Ratings for South32 Daily - Enter your email address below to receive a concise daily summary of the latest news and analysts' ratings for South32 and related companies with MarketBeat.com's FREE daily email newsletter.