SLM (NASDAQ:SLM) issued an update on its FY18 earnings guidance on Monday morning. The company provided EPS guidance of $1.02-1.03 for the period, compared to the Thomson Reuters consensus EPS estimate of $1.02. SLM also updated its FY 2018 guidance to $1.02-1.03 EPS.
Shares of NASDAQ:SLM traded down $0.01 during trading on Monday, reaching $10.57. 4,597,924 shares of the company's stock traded hands, compared to its average volume of 3,152,857. The company has a quick ratio of 1.41, a current ratio of 1.41 and a debt-to-equity ratio of 1.81. SLM has a 12 month low of $9.65 and a 12 month high of $12.46. The company has a market cap of $4.61 billion, a PE ratio of 14.89, a P/E/G ratio of 0.53 and a beta of 1.18.
SLM (NASDAQ:SLM) last announced its quarterly earnings data on Monday, October 22nd. The credit services provider reported $0.23 earnings per share for the quarter, missing analysts' consensus estimates of $0.24 by ($0.01). SLM had a net margin of 21.69% and a return on equity of 18.48%. During the same quarter in the prior year, the company posted $0.17 EPS. As a group, research analysts forecast that SLM will post 1.01 EPS for the current fiscal year.
SLM has been the subject of a number of recent research reports. BidaskClub downgraded shares of SLM from a hold rating to a sell rating in a research report on Friday, September 28th.
Zacks Investment Research
downgraded shares of SLM from a hold rating to a sell rating in a research report on Tuesday, August 14th.
ValuEngine
upgraded shares of SLM from a sell rating to a hold rating in a research report on Friday, August 10th. Wells Fargo & Co set a $14.00 target price on shares of SLM and gave the stock a buy rating in a research report on Friday, July 6th. Finally, Stephens assumed coverage on shares of SLM in a research report on Monday, July 9th. They issued an overweight rating and a $15.00 target price for the company. Three equities research analysts have rated the stock with a sell rating, one has assigned a hold rating and nine have given a buy rating to the company's stock. The stock currently has a consensus rating of Hold and an average price target of $14.66.
In other SLM news, EVP Paul F. Thome sold 22,104 shares of the company's stock in a transaction dated Friday, August 3rd. The shares were sold at an average price of $11.13, for a total value of $246,017.52. Following the completion of the transaction, the executive vice president now owns 183,383 shares in the company, valued at approximately $2,041,052.79. The transaction was disclosed in a legal filing with the SEC, which is available through the SEC website. 0.36% of the stock is currently owned by corporate insiders.
SLM Company Profile
SLM Corporation, together with its subsidiaries, operates as a saving, planning, and paying for college company in the United States. The company originates and services private education loans to students and their families. Its loan portfolio also includes federal family education loan program, personal, and other loans.
See Also: Bear Market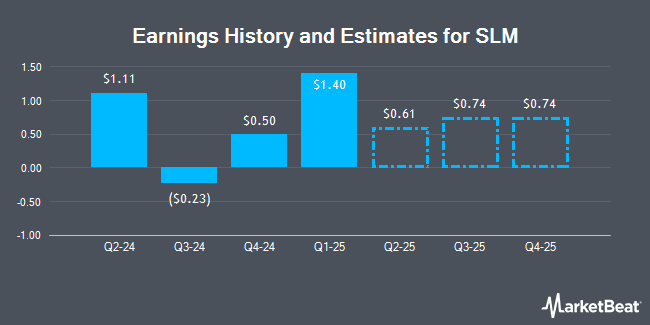 Receive News & Ratings for SLM Daily - Enter your email address below to receive a concise daily summary of the latest news and analysts' ratings for SLM and related companies with MarketBeat.com's FREE daily email newsletter.