Renishaw plc (LON:RSW) has been assigned an average recommendation of "Hold" from the six brokerages that are currently covering the firm, MarketBeat reports. Three research analysts have rated the stock with a sell rating, two have given a hold rating and one has assigned a buy rating to the company. The average 1-year price target among analysts that have updated their coverage on the stock in the last year is GBX 3,185 ($41.62).
A number of research firms have recently commented on RSW. Peel Hunt reissued a "reduce" rating on shares of Renishaw in a research note on Thursday, July 26th. Numis Securities boosted their price objective on Renishaw from GBX 5,200 ($67.95) to GBX 5,900 ($77.09) and gave the stock a "hold" rating in a research note on Monday, July 30th. Finally, Barclays reissued an "underweight" rating on shares of Renishaw in a research note on Wednesday, September 26th.
Shares of RSW traded up GBX 144 ($1.88) during midday trading on Friday, reaching GBX 4,144 ($54.15). The stock had a trading volume of 145,104 shares, compared to its average volume of 89,834. Renishaw has a 52 week low of GBX 3,024 ($39.51) and a 52 week high of GBX 5,820 ($76.05).
Renishaw (LON:RSW) last posted its quarterly earnings data on Thursday, July 26th. The company reported GBX 170.50 ($2.23) EPS for the quarter, topping the Zacks' consensus estimate of GBX 167.80 ($2.19) by GBX 2.70 ($0.04). Renishaw had a return on equity of 23.90% and a net margin of 20.07%.
The business also recently announced a dividend, which will be paid on Tuesday, October 23rd. Stockholders of record on Thursday, September 20th will be given a dividend of GBX 46 ($0.60) per share. The ex-dividend date is Thursday, September 20th. This is a positive change from Renishaw's previous dividend of $14.00. This represents a dividend yield of 0.83%.
About Renishaw
Renishaw plc, a metrology company, designs, manufactures, distributes, sells, and services metrology and healthcare products worldwide. The company offers metrology products, including additive manufacturing systems, co-ordinate measuring machine products, machine tool probe systems, styli for probe systems, performance testing products, gauging systems, fixtures, and position encoders.
Further Reading: Intrinsic Value and Stock Selection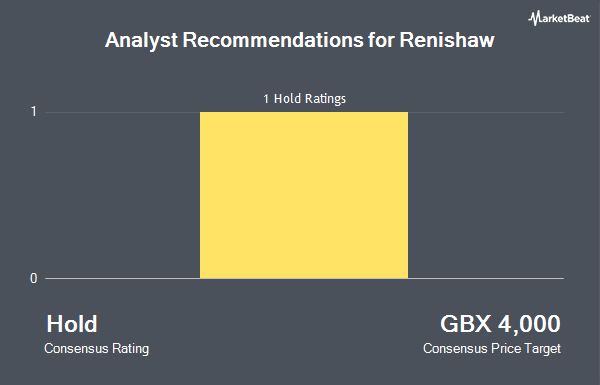 Receive News & Ratings for Renishaw Daily - Enter your email address below to receive a concise daily summary of the latest news and analysts' ratings for Renishaw and related companies with MarketBeat.com's FREE daily email newsletter.