Zacks Investment Research upgraded shares of CNX Resources (NYSE:CNX) from a hold rating to a buy rating in a research report sent to investors on Wednesday. Zacks Investment Research currently has $16.00 target price on the oil and gas producer's stock.
According to Zacks, "CNX Resources' focus on low-cost production areas and increasing consciousness to lower emissions will drive demand for natural gas and are going to act as tailwinds. Share buyback, selling off its non-core assets and increasing focus on Marcellus and Utica shales are also going to strengthen the company's performance. This oil and natural gas company will also benefit from its cost savings initiatives. However, in the last six months shares of CNX Resources have declined againist a gain of its industry. CNX Resources' dependence on third-party assets for processing and transportation, and competitiveness of domestic oil and natural gas are headwinds. The exploration and production of natural gas involve a lot of risks, and could impact its operating results, going forward."
CNX has been the topic of a number of other reports. Raymond James reissued a sell rating on shares of CNX Resources in a report on Thursday, August 30th. Goldman Sachs Group lowered CNX Resources from a neutral rating to a sell rating and set a $14.00 price target on the stock. in a report on Tuesday, September 11th. They noted that the move was a valuation call. Finally, ValuEngine lowered CNX Resources from a sell rating to a strong sell rating in a report on Thursday, September 27th. Three analysts have rated the stock with a sell rating, three have issued a hold rating and six have issued a buy rating to the company's stock. The company currently has an average rating of Hold and a consensus target price of $21.00.
Shares of
NYSE CNX
opened at $14.16 on Wednesday. CNX Resources has a 1-year low of $11.69 and a 1-year high of $18.37. The company has a current ratio of 0.67, a quick ratio of 0.65 and a debt-to-equity ratio of 0.47. The firm has a market capitalization of $3.05 billion, a price-to-earnings ratio of -88.50 and a beta of 1.03.
CNX Resources (NYSE:CNX) last issued its earnings results on Thursday, August 2nd. The oil and gas producer reported $0.33 earnings per share for the quarter, topping the Thomson Reuters' consensus estimate of $0.12 by $0.21. CNX Resources had a return on equity of 2.37% and a net margin of 40.07%. The firm had revenue of $402.12 million for the quarter, compared to analyst estimates of $381.22 million. During the same period last year, the company earned $0.08 earnings per share. The firm's revenue for the quarter was up 8.4% on a year-over-year basis. Sell-side analysts anticipate that CNX Resources will post 0.74 EPS for the current fiscal year.
In other news, Director J. Palmer Clarkson bought 10,000 shares of the firm's stock in a transaction that occurred on Thursday, August 16th. The stock was acquired at an average price of $14.90 per share, with a total value of $149,000.00. The acquisition was disclosed in a document filed with the Securities & Exchange Commission, which can be accessed through this link. Company insiders own 2.00% of the company's stock.
A number of hedge funds have recently made changes to their positions in CNX. Dimensional Fund Advisors LP boosted its stake in CNX Resources by 4.6% during the second quarter. Dimensional Fund Advisors LP now owns 15,624,816 shares of the oil and gas producer's stock valued at $277,803,000 after buying an additional 686,988 shares in the last quarter. First Trust Advisors LP acquired a new position in shares of CNX Resources in the 2nd quarter valued at $10,494,000. Marshall Wace LLP acquired a new position in shares of CNX Resources in the 2nd quarter valued at $5,345,000. Ancora Advisors LLC acquired a new position in shares of CNX Resources in the 1st quarter valued at $4,386,000. Finally, KBC Group NV acquired a new position in shares of CNX Resources in the 2nd quarter valued at $3,540,000. 95.60% of the stock is owned by institutional investors and hedge funds.
About CNX Resources
CNX Resources Corporation, an independent oil and natural gas company, explores for, develops, and produces natural gas in the Appalachian Basin. As of December 31, 2017, it had 7.6 trillion cubic feet equivalent of proved natural gas reserves. The company also owns, operates, and develops natural gas gathering and other midstream energy assets in the Marcellus Shale in Pennsylvania and West Virginia.
Featured Story: How can investors find ex-dividend dates?
Get a free copy of the Zacks research report on CNX Resources (CNX)
For more information about research offerings from Zacks Investment Research, visit Zacks.com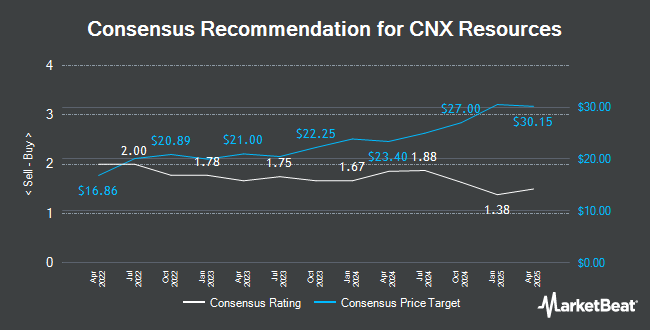 Receive News & Ratings for CNX Resources Daily - Enter your email address below to receive a concise daily summary of the latest news and analysts' ratings for CNX Resources and related companies with MarketBeat.com's FREE daily email newsletter.