John Wood Group (LON:WG) had its target price lifted by Barclays from GBX 750 ($9.80) to GBX 910 ($11.89) in a research note released on Wednesday. They currently have an underweight rating on the stock.
Other analysts also recently issued research reports about the company. Citigroup restated a buy rating and set a GBX 850 ($11.11) price objective on shares of John Wood Group in a report on Monday, June 25th. HSBC upgraded John Wood Group to a buy rating and boosted their price objective for the stock from GBX 675 ($8.82) to GBX 725 ($9.47) in a report on Thursday, September 6th. Finally, Numis Securities upgraded John Wood Group to an add rating and boosted their price objective for the stock from GBX 740 ($9.67) to GBX 820 ($10.71) in a report on Wednesday, August 22nd. Three analysts have rated the stock with a sell rating, two have assigned a hold rating and six have assigned a buy rating to the company's stock. John Wood Group has a consensus rating of Hold and a consensus price target of GBX 775 ($10.13).
LON WG opened at GBX 739.40 ($9.66) on Wednesday. John Wood Group has a 1 year low of GBX 553 ($7.23) and a 1 year high of GBX 830 ($10.85).
The firm also recently announced a dividend, which was paid on Thursday, September 27th. Shareholders of record on Thursday, August 30th were paid a dividend of $0.11 per share. The ex-dividend date of this dividend was Thursday, August 30th. This represents a yield of 1.26%.
In other John Wood Group news, insider Robin Watson bought 899 shares of the stock in a transaction on Thursday, July 26th. The shares were bought at an average price of GBX 639 ($8.35) per share, with a total value of £5,744.61 ($7,506.35). Also, insider Jann M. Brown bought 976 shares of the stock in a transaction on Friday, September 28th. The shares were acquired at an average cost of GBX 769 ($10.05) per share, for a total transaction of £7,505.44 ($9,807.19).
About John Wood Group
John Wood Group PLC, together with its subsidiaries, provides project, engineering, and technical services to the energy and industrial markets in the United Kingdom, the United States, and internationally. It operates in five segments: Asset Solutions Europe, Africa, Asia, Australia; Assets Solutions Americas; Specialist Technical Solutions; Environment and Infrastructure Solutions; and Investment Services.
Featured Article: Short Selling Stocks and Day Traders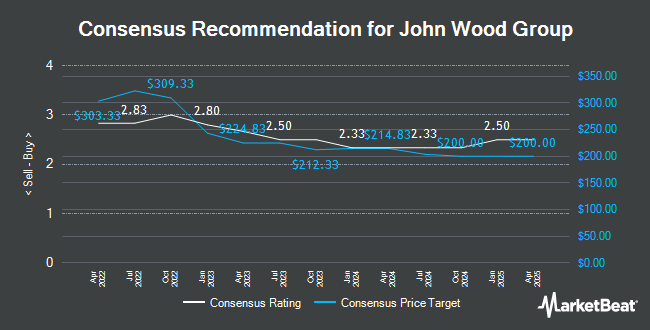 Receive News & Ratings for John Wood Group Daily - Enter your email address below to receive a concise daily summary of the latest news and analysts' ratings for John Wood Group and related companies with MarketBeat.com's FREE daily email newsletter.