5N Plus Inc (TSE:VNP) – National Bank Financial issued their Q3 2018 earnings per share (EPS) estimates for 5N Plus in a report released on Wednesday, August 8th. National Bank Financial analyst R. Merer forecasts that the company will earn $0.07 per share for the quarter. National Bank Financial currently has a "Outperform Spec Under Weight" rating on the stock. National Bank Financial also issued estimates for 5N Plus' Q4 2018 earnings at $0.07 EPS and FY2018 earnings at $0.26 EPS.
5N Plus opened at C$3.45 on Monday, MarketBeat.com reports. 5N Plus has a 52-week low of C$2.22 and a 52-week high of C$3.55.
In other news, Director Donald F. Osborne bought 10,000 shares of 5N Plus stock in a transaction dated Tuesday, May 22nd. The shares were acquired at an average price of C$3.29 per share, with a total value of C$32,900.00. Also, insider Nicholas Audet sold 16,400 shares of the stock in a transaction on Friday, May 18th. The shares were sold at an average price of C$3.47, for a total transaction of C$56,908.00. In the last three months, insiders sold 74,400 shares of company stock worth $248,559.
5N Plus Company Profile
5N Plus Inc produces and sells specialty chemicals and engineered materials in Europe, Asia, and the Americas. It operates in two segments, Electronic Materials and Eco-Friendly Materials. The Electronic Materials segment manufactures and sells refined metals, compounds, and alloys, which are primarily used in a range of electronic applications covering various end-markets consisting of security, aerospace, sensing and imaging, renewable energy, and technical materials; and provides recycling services.
Featured Article: Google Finance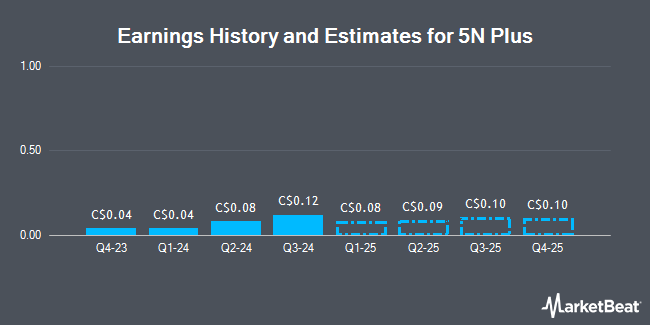 Receive News & Ratings for 5N Plus Daily - Enter your email address below to receive a concise daily summary of the latest news and analysts' ratings for 5N Plus and related companies with MarketBeat.com's FREE daily email newsletter.