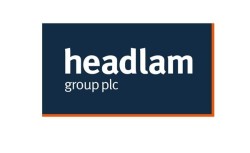 Headlam Group (LON:HEAD) had its target price cut by stock analysts at Peel Hunt from GBX 650 ($8.65) to GBX 640 ($8.52) in a research report issued on Thursday, May 24th. The firm presently has a "buy" rating on the stock. Peel Hunt's price objective would indicate a potential upside of 31.28% from the company's current price.
Shares of Headlam Group traded down GBX 2.50 ($0.03), reaching GBX 487.50 ($6.49), during trading hours on Thursday, according to Marketbeat. The stock had a trading volume of 19,676 shares, compared to its average volume of 217,501. Headlam Group has a 12 month low of GBX 424 ($5.65) and a 12 month high of GBX 654.50 ($8.71).
Headlam Group Company Profile
Headlam Group plc, through its subsidiaries, sells, markets, supplies, and distributes floorcovering and other ancillary products. The company's products include floorcovering products comprising carpet, residential vinyl, wood, laminate, luxury vinyl tile, rugs, and underlay and commercial flooring.
Receive News & Ratings for Headlam Group Daily - Enter your email address below to receive a concise daily summary of the latest news and analysts' ratings for Headlam Group and related companies with MarketBeat.com's FREE daily email newsletter.