Devro (LON:DVO)'s stock had its "hold" rating reiterated by equities research analysts at Peel Hunt in a report released on Wednesday, April 25th. They currently have a GBX 200 ($2.68) price target on the stock. Peel Hunt's target price would indicate a potential downside of 5.66% from the company's current price.
Other equities analysts have also issued research reports about the company. Numis Securities reissued a "hold" rating and issued a GBX 220 ($2.95) price objective on shares of Devro in a research note on Tuesday, February 27th. Shore Capital raised Devro to a "buy" rating in a research note on Tuesday, March 20th. BNP Paribas reissued a "neutral" rating on shares of Devro in a research note on Thursday, April 5th. Finally, Berenberg Bank raised Devro to a "hold" rating and reduced their price objective for the stock from GBX 199 ($2.67) to GBX 198 ($2.66) in a research note on Thursday, March 1st. Four analysts have rated the stock with a hold rating and two have given a buy rating to the company. The stock presently has a consensus rating of "Hold" and a consensus price target of GBX 219.50 ($2.95).
Devro stock traded up GBX 1 ($0.01) on Wednesday, reaching GBX 212 ($2.84). The company's stock had a trading volume of 68,957 shares, compared to its average volume of 128,464. Devro has a twelve month low of GBX 175 ($2.35) and a twelve month high of GBX 247 ($3.31).
Devro (LON:DVO) last posted its quarterly earnings data on Tuesday, February 27th. The company reported GBX 12.50 ($0.17) EPS for the quarter, missing analysts' consensus estimates of GBX 13.80 ($0.19) by GBX (1.30) (($0.02)). The business had revenue of £256.90 million during the quarter. Devro had a return on equity of 10.17% and a net margin of 4.78%.
In other news, insider Gerard Hoetmer purchased 25,000 shares of the business's stock in a transaction dated Tuesday, February 27th. The shares were acquired at an average price of GBX 200 ($2.68) per share, with a total value of £50,000 ($67,087.08).
About Devro
Devro plc, together with its subsidiaries, manufactures and supplies collagen casings in the Americas, Europe, and the Asia-Pacific. It offers edible and non-edible collagen casings, tubular films, and plastic casings for use in the production of a range of sausages and other meat products. The company sells its products to food manufacturers through agents and distributors under the Devro, Cutisin, Edicol, and Ralex names.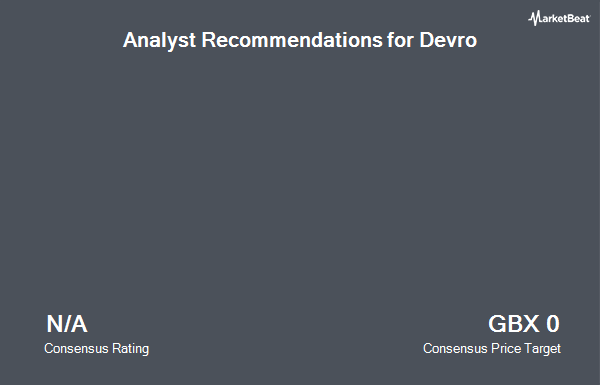 Receive News & Ratings for Devro Daily - Enter your email address below to receive a concise daily summary of the latest news and analysts' ratings for Devro and related companies with MarketBeat.com's FREE daily email newsletter.