Cheetah Mobile (NYSE:CMCM) posted its quarterly earnings data on Monday. The software maker reported $0.48 earnings per share for the quarter, topping the Thomson Reuters' consensus estimate of $0.11 by $0.37, Briefing.com reports. Cheetah Mobile had a net margin of 27.66% and a return on equity of 37.29%. The company had revenue of $1.15 billion during the quarter, compared to analysts' expectations of $1.13 billion. During the same period in the prior year, the company posted $0.81 earnings per share. Cheetah Mobile's revenue for the quarter was down 3.8% compared to the same quarter last year.
Shares of NYSE CMCM opened at $11.96 on Monday. The firm has a market cap of $1.77 billion, a P/E ratio of 8.68 and a beta of 3.46. Cheetah Mobile has a 12-month low of $7.54 and a 12-month high of $18.18.
Several research analysts recently issued reports on the stock. Macquarie lowered shares of Cheetah Mobile from a "neutral" rating to an "underperform" rating in a research note on Tuesday, March 13th. Credit Suisse Group set a $13.00 target price on shares of Cheetah Mobile and gave the stock a "hold" rating in a research note on Monday, March 19th. Finally, ValuEngine raised shares of Cheetah Mobile from a "hold" rating to a "buy" rating in a research note on Wednesday, May 2nd. Two analysts have rated the stock with a sell rating, three have assigned a hold rating, one has assigned a buy rating and one has issued a strong buy rating to the company. The company presently has a consensus rating of "Hold" and an average price target of $12.25.
Cheetah Mobile Company Profile
Cheetah Mobile Inc operates a platform that offers mobile and personal computer (PC) applications for its users and global content promotional channels. The company's suite of utility applications optimizes mobile and PC Internet system performance and provides real time protection against known and unknown security threats.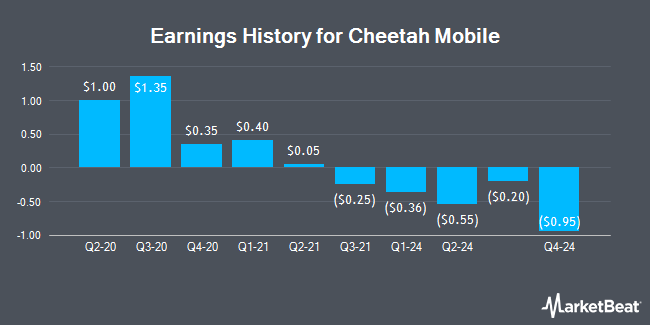 Receive News & Ratings for Cheetah Mobile Daily - Enter your email address below to receive a concise daily summary of the latest news and analysts' ratings for Cheetah Mobile and related companies with MarketBeat.com's FREE daily email newsletter.