Tortoise Capital Resources Co. (NYSE:CORR) declared a quarterly dividend on Wednesday, April 25th, Zacks reports. Investors of record on Thursday, May 17th will be paid a dividend of 0.75 per share by the asset manager on Thursday, May 31st. This represents a $3.00 dividend on an annualized basis and a yield of 8.36%. The ex-dividend date of this dividend is Wednesday, May 16th.
Tortoise Capital Resources has increased its dividend by an average of 5.3% per year over the last three years. Tortoise Capital Resources has a dividend payout ratio of 71.3% indicating that its dividend is sufficiently covered by earnings. Equities analysts expect Tortoise Capital Resources to earn $4.35 per share next year, which means the company should continue to be able to cover its $3.00 annual dividend with an expected future payout ratio of 69.0%.
CORR stock opened at $35.87 on Friday. The company has a quick ratio of 3.50, a current ratio of 3.50 and a debt-to-equity ratio of 0.47. The company has a market capitalization of $430.52 million, a price-to-earnings ratio of 9.43, a price-to-earnings-growth ratio of 2.10 and a beta of 1.89. Tortoise Capital Resources has a 12 month low of $35.90 and a 12 month high of $36.27.
Tortoise Capital Resources (NYSE:CORR) last posted its quarterly earnings data on Wednesday, February 28th. The asset manager reported $0.36 earnings per share (EPS) for the quarter, missing the Thomson Reuters' consensus estimate of $1.03 by ($0.67). The firm had revenue of $22.40 million for the quarter. Tortoise Capital Resources had a return on equity of 9.34% and a net margin of 37.00%. equities research analysts predict that Tortoise Capital Resources will post 4.3 EPS for the current fiscal year.
In other news, CEO David J. Schulte purchased 1,930 shares of the business's stock in a transaction that occurred on Thursday, March 8th. The shares were acquired at an average cost of $36.91 per share, for a total transaction of $71,236.30. Following the transaction, the chief executive officer now directly owns 22,110 shares of the company's stock, valued at approximately $816,080.10. The acquisition was disclosed in a document filed with the Securities & Exchange Commission, which is accessible through this link. Company insiders own 1.20% of the company's stock.
CORR has been the subject of a number of recent research reports. Zacks Investment Research cut shares of Tortoise Capital Resources from a "hold" rating to a "sell" rating in a research note on Thursday, February 22nd. ValuEngine cut shares of Tortoise Capital Resources from a "strong-buy" rating to a "buy" rating in a research report on Wednesday, May 2nd. Finally, Stifel Nicolaus decreased their price objective on shares of Tortoise Capital Resources to $39.00 and set a "hold" rating on the stock in a report on Tuesday, May 8th. Two equities research analysts have rated the stock with a sell rating and three have assigned a hold rating to the stock. The stock has an average rating of "Hold" and an average target price of $39.00.
Tortoise Capital Resources Company Profile
CorEnergy Infrastructure Trust, Inc (NYSE: CORR, CORRPrA) is a real estate investment trust (REIT) that owns essential energy assets, such as pipelines, storage terminals, and transmission and distribution assets. We receive long-term contracted revenue from operators of our assets, primarily under triple-net participating leases.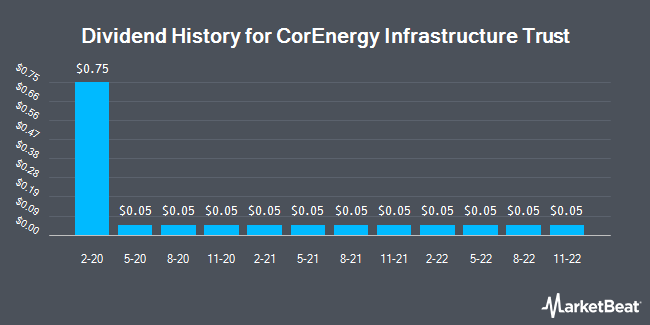 Receive News & Ratings for Tortoise Capital Resources Daily - Enter your email address below to receive a concise daily summary of the latest news and analysts' ratings for Tortoise Capital Resources and related companies with MarketBeat.com's FREE daily email newsletter.