Carnival (LON:CCL) had its price objective cut by Credit Suisse Group from GBX 5,920 ($80.30) to GBX 5,910 ($80.17) in a research note published on Friday, May 4th. They currently have an outperform rating on the stock.
Several other research firms have also recently commented on CCL. HSBC reaffirmed a buy rating and issued a GBX 5,500 ($74.61) price objective on shares of Carnival in a research report on Friday, February 16th. Shore Capital reaffirmed a hold rating on shares of Carnival in a research report on Wednesday, March 14th. Morgan Stanley boosted their price target on shares of Carnival from GBX 5,000 ($67.82) to GBX 5,100 ($69.18) and gave the stock an equal weight rating in a research report on Thursday, March 8th. Finally, Berenberg Bank cut their price target on shares of Carnival from GBX 5,300 ($71.89) to GBX 5,050 ($68.50) and set a hold rating on the stock in a research report on Tuesday, April 3rd. Five investment analysts have rated the stock with a hold rating and two have issued a buy rating to the stock. Carnival presently has a consensus rating of Hold and an average price target of GBX 5,410 ($73.39).
CCL traded down GBX 23 ($0.31) during trading on Friday, hitting GBX 4,923 ($66.78). The company had a trading volume of 518,445 shares, compared to its average volume of 778,140. Carnival has a one year low of GBX 4,437 ($60.19) and a one year high of GBX 5,435 ($73.72).
The firm also recently declared a dividend, which will be paid on Friday, June 15th. Shareholders of record on Thursday, May 24th will be given a dividend of $0.50 per share. The ex-dividend date of this dividend is Thursday, May 24th. This is a boost from Carnival's previous dividend of $0.45. This represents a yield of 0.78%.
Carnival Company Profile
Carnival plc operates as a leisure travel and cruise company. It offers cruises under the Carnival Cruise Line, Princess Cruises, Holland America Line, and Seabourn brands in North America; and Costa, AIDA, P&O Cruises (UK), Cunard, and P&O Cruises (Australia) brands in Europe, Australia, and Asia.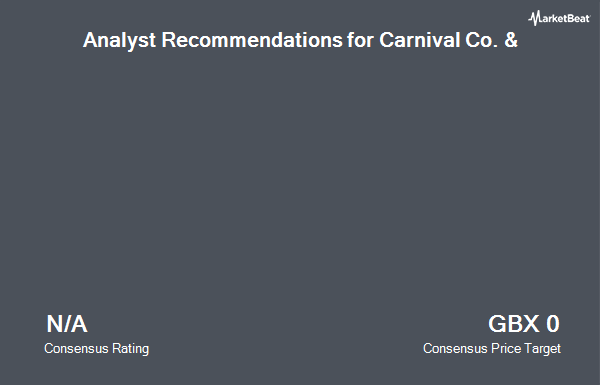 Receive News & Ratings for Carnival Daily - Enter your email address below to receive a concise daily summary of the latest news and analysts' ratings for Carnival and related companies with MarketBeat.com's FREE daily email newsletter.