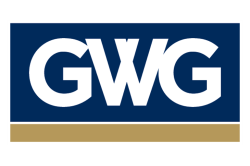 ValuEngine downgraded shares of GWG (NASDAQ:GWGH) from a hold rating to a sell rating in a report issued on Monday.
Several other equities analysts have also issued reports on GWGH. Maxim Group reissued a buy rating and issued a $14.00 price target on shares of GWG in a report on Tuesday, January 23rd. Zacks Investment Research raised shares of GWG from a hold rating to a buy rating and set a $9.50 target price for the company in a research note on Thursday, April 5th.
Shares of GWG opened at $8.10 on Monday, MarketBeat.com reports. GWG has a 12-month low of $7.37 and a 12-month high of $10.95. The firm has a market capitalization of $47.09 million, a PE ratio of 2.82 and a beta of 0.47. The company has a debt-to-equity ratio of -13.97, a current ratio of 22.17 and a quick ratio of 15.75.
GWG (NASDAQ:GWGH) last announced its quarterly earnings results on Monday, May 14th. The financial services provider reported $0.46 earnings per share (EPS) for the quarter, beating the consensus estimate of ($0.64) by $1.10. GWG had a negative net margin of 56.86% and a negative return on equity of 78.98%. The company had revenue of $14.54 million during the quarter, compared to analyst estimates of $20.23 million. equities analysts expect that GWG will post -0.19 EPS for the current fiscal year.
About GWG
GWG Holdings, Inc, a financial services company, purchases life insurance policies in the secondary market in the United States. It purchases or finances life insurance assets from consumers in the secondary market at a discount to the face value of the policy benefit. The company also purchases policies in the secondary market through financial advisors and appointed agents.
To view ValuEngine's full report, visit ValuEngine's official website.
Receive News & Ratings for GWG Daily - Enter your email address below to receive a concise daily summary of the latest news and analysts' ratings for GWG and related companies with MarketBeat.com's FREE daily email newsletter.