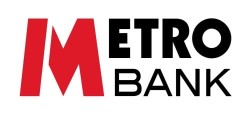 Metro Bank (OTCMKTS:MBNKF) – Equities researchers at Jefferies Group lowered their FY2018 EPS estimates for Metro Bank in a report issued on Wednesday, April 25th, according to Zacks Investment Research. Jefferies Group analyst J. Dickerson now anticipates that the company will post earnings per share of $0.74 for the year, down from their prior estimate of $1.60. Jefferies Group also issued estimates for Metro Bank's FY2019 earnings at $1.86 EPS.
Several other research firms have also recently issued reports on MBNKF. Investec upgraded Metro Bank from a "sell" rating to a "hold" rating in a report on Friday, February 9th. Zacks Investment Research cut Metro Bank from a "hold" rating to a "strong sell" rating in a report on Wednesday, February 7th.
Shares of
Metro Bank stock
traded down $2.38 on Monday, hitting $45.26. The company's stock had a trading volume of 335 shares, compared to its average volume of 6,882. Metro Bank has a 1 year low of $43.00 and a 1 year high of $57.36.
Metro Bank Company Profile
Metro Bank PLC, together with its subsidiaries, provides retail and corporate banking services in the United Kingdom. The company offers personal banking products and services, including current and savings accounts; residential mortgages; credit cards and personal loans; and safe deposit box services.
Get a free copy of the Zacks research report on Metro Bank (MBNKF)
For more information about research offerings from Zacks Investment Research, visit Zacks.com
Receive News & Ratings for Metro Bank Daily - Enter your email address below to receive a concise daily summary of the latest news and analysts' ratings for Metro Bank and related companies with MarketBeat.com's FREE daily email newsletter.