Franco-Nevada (TSE:FNV) (NYSE:FNV) had its target price lifted by National Bank Financial from C$105.00 to C$107.50 in a report issued on Thursday, May 10th. National Bank Financial also issued estimates for Franco-Nevada's Q2 2018 earnings at $0.36 EPS, Q3 2018 earnings at $0.36 EPS, Q4 2018 earnings at $0.36 EPS, FY2018 earnings at $1.51 EPS and FY2020 earnings at $1.79 EPS.
Separately, Canaccord Genuity decreased their price target on Franco-Nevada from C$126.00 to C$122.00 in a research note on Thursday, March 8th. One analyst has rated the stock with a sell rating, three have assigned a hold rating and three have issued a buy rating to the stock. Franco-Nevada has a consensus rating of Hold and an average target price of C$115.36.
Shares of FNV traded down C$0.35 during trading hours on Thursday, hitting C$90.49. 182,199 shares of the stock were exchanged, compared to its average volume of 473,469. Franco-Nevada has a 12-month low of C$85.21 and a 12-month high of C$110.18.
Franco-Nevada (TSE:FNV) (NYSE:FNV) last released its quarterly earnings data on Wednesday, March 7th. The company reported C$0.36 earnings per share for the quarter, hitting the Zacks' consensus estimate of C$0.36. Franco-Nevada had a return on equity of 5.21% and a net margin of 34.99%. The company had revenue of C$212.36 million for the quarter, compared to analyst estimates of C$220.79 million.
The firm also recently declared a quarterly dividend, which will be paid on Thursday, June 28th. Stockholders of record on Thursday, June 14th will be paid a $0.308 dividend. This represents a $1.23 annualized dividend and a dividend yield of 1.36%. The ex-dividend date is Wednesday, June 13th. This is a positive change from Franco-Nevada's previous quarterly dividend of $0.28.
About Franco-Nevada
Franco-Nevada Corporation operates as a gold-focused royalty and stream company in the United States, Canada, Mexico, Peru, Chile, Australia, and Africa. The company also holds interests in silver, platinum group metals, oil and gas, and other resource assets. As of December 31, 2017, it had a portfolio of 341 assets.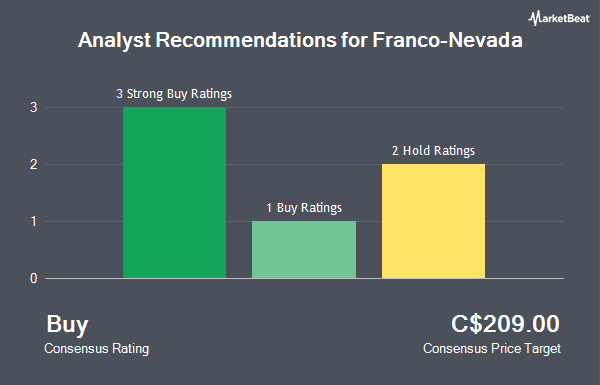 Receive News & Ratings for Franco-Nevada Daily - Enter your email address below to receive a concise daily summary of the latest news and analysts' ratings for Franco-Nevada and related companies with MarketBeat.com's FREE daily email newsletter.