Shares of Aggreko (LON:AGK) have been assigned an average rating of "Hold" from the ten ratings firms that are covering the stock, MarketBeat reports. Six equities research analysts have rated the stock with a sell rating, two have issued a hold rating and two have given a buy rating to the company. The average 12-month price objective among brokers that have issued a report on the stock in the last year is GBX 820.88 ($11.14).
Several equities research analysts recently issued reports on the stock. BNP Paribas reaffirmed an "underperform" rating and set a GBX 560 ($7.60) price target on shares of Aggreko in a report on Thursday, April 5th. Deutsche Bank reaffirmed a "hold" rating on shares of Aggreko in a report on Wednesday, March 7th. JPMorgan Chase reaffirmed a "neutral" rating and set a GBX 867 ($11.76) price target on shares of Aggreko in a report on Wednesday, March 7th. Finally, Peel Hunt decreased their price target on shares of Aggreko from GBX 750 ($10.17) to GBX 700 ($9.50) and set a "reduce" rating on the stock in a report on Tuesday, March 6th.
In related news, insider Chris Weston sold 4,052 shares of Aggreko stock in a transaction that occurred on Wednesday, April 4th. The shares were sold at an average price of GBX 722 ($9.79), for a total transaction of £29,255.44 ($39,684.54).
Shares of Aggreko opened at GBX 728.80 ($9.89) on Thursday, according to
Marketbeat Ratings
. Aggreko has a one year low of GBX 638.60 ($8.66) and a one year high of GBX 994.50 ($13.49).
The business also recently declared a dividend, which will be paid on Tuesday, May 22nd. Investors of record on Thursday, April 19th will be issued a dividend of GBX 17.74 ($0.24) per share. The ex-dividend date of this dividend is Thursday, April 19th. This is a positive change from Aggreko's previous dividend of $9.38. This represents a dividend yield of 2.47%.
Aggreko Company Profile
Aggreko plc engages in the rental of temporary power and temperature control solutions to various customers. It offers power generation products, including diesel generators, G3+ generators, and gas generators; cooling equipment, such as cooling towers, chillers, heat exchangers, air handlers, and air conditioners; and desiccant and refrigerated dehumidifiers to prevent metal corrosion, aid processes, preserve equipment on cold stacked offshore rigs, reduce mould and mildew growth during production processes, and dry out water-damaged buildings, as well as to reduce drying times for concrete, insulation, and fireproofing.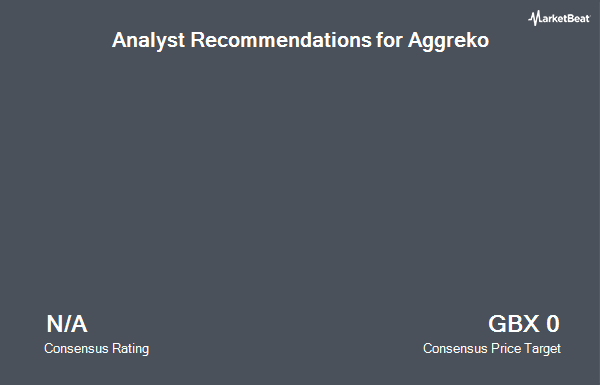 Receive News & Ratings for Aggreko Daily - Enter your email address below to receive a concise daily summary of the latest news and analysts' ratings for Aggreko and related companies with MarketBeat.com's FREE daily email newsletter.