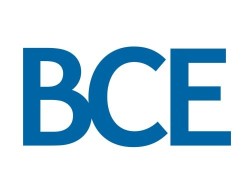 BCE Inc. (TSE:BCE) (NYSE:BCE) announced a quarterly dividend on Wednesday, February 7th, Zacks reports. Investors of record on Thursday, March 15th will be given a dividend of 0.755 per share on Sunday, April 15th. This represents a $3.02 dividend on an annualized basis and a yield of 5.35%. The ex-dividend date is Wednesday, March 14th. This is a boost from BCE's previous quarterly dividend of $0.72.
BCE (TSE BCE) traded up C$0.10 during trading hours on Friday, reaching C$56.44. 4,355,400 shares of the company were exchanged, compared to its average volume of 1,763,071. BCE has a 52 week low of C$54.44 and a 52 week high of C$63.00. The company has a market cap of $51,090.00, a price-to-earnings ratio of 18.15 and a beta of -0.04.
BCE (TSE:BCE) (NYSE:BCE) last issued its quarterly earnings results on Thursday, February 8th. The company reported C$0.76 earnings per share (EPS) for the quarter, topping the Thomson Reuters' consensus estimate of C$0.74 by C$0.02. The company had revenue of C$5.96 billion during the quarter, compared to analyst estimates of C$5.95 billion. BCE had a net margin of 14.39% and a return on equity of 20.55%. During the same period last year, the business earned $0.62 EPS.
Several analysts recently commented on BCE shares. TD Securities cut their price objective on shares of BCE from C$59.00 to C$58.00 in a research report on Friday, February 9th. Scotiabank dropped their price target on shares of BCE from C$61.00 to C$59.00 and set a "sector perform" rating on the stock in a report on Friday, February 2nd. National Bank Financial dropped their price objective on shares of BCE from C$64.00 to C$63.00 and set an "outperform" rating on the stock in a report on Thursday, February 1st. Desjardins cut shares of BCE from a "buy" rating to a "hold" rating in a research note on Friday, January 12th. Finally, Canaccord Genuity decreased their target price on shares of BCE from C$61.00 to C$59.00 in a research note on Friday, February 9th. Four analysts have rated the stock with a hold rating and five have issued a buy rating to the company's stock. The company has a consensus rating of "Buy" and a consensus price target of C$61.75.
ILLEGAL ACTIVITY NOTICE: "BCE Inc. (BCE) Raises Dividend to $0.76 Per Share" was first posted by Week Herald and is the property of of Week Herald. If you are reading this report on another domain, it was illegally stolen and reposted in violation of U.S. and international trademark & copyright laws. The original version of this report can be read at https://weekherald.com/2018/03/16/bce-inc-bce-to-go-ex-dividend-on-march-14th.html.
About BCE
BCE Inc is a communications company. The Company's segments include Bell Wireless, Bell Wireline and Bell Media. Its Bell Wireless segment provides wireless voice and data communications products and services to its residential, small and medium-sized business and large enterprise customers across Canada.
Receive News & Ratings for BCE Daily - Enter your email address below to receive a concise daily summary of the latest news and analysts' ratings for BCE and related companies with MarketBeat.com's FREE daily email newsletter.