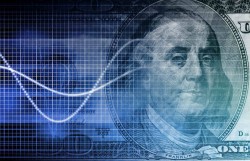 Krystal Biotech's (NASDAQ:KRYS) lock-up period will expire on Monday, March 19th. Krystal Biotech had issued 3,960,000 shares in its public offering on September 20th. The total size of the offering was $39,600,000 based on an initial share price of $10.00. After the end of the company's lock-up period, major shareholders and company insiders will be able to sell their shares of the company.
Separately, Zacks Investment Research downgraded Krystal Biotech from a "hold" rating to a "sell" rating in a research report on Tuesday, December 19th.
Shares of Krystal Biotech (NASDAQ KRYS) opened at $10.25 on Wednesday. Krystal Biotech has a 12-month low of $8.03 and a 12-month high of $11.98.
A number of institutional investors and hedge funds have recently made changes to their positions in the business. Millennium Management LLC acquired a new stake in Krystal Biotech during the 4th quarter worth about $266,000. Artal Group S.A. boosted its stake in shares of Krystal Biotech by 50.0% during the 4th quarter. Artal Group S.A. now owns 150,000 shares of the company's stock worth $1,578,000 after acquiring an additional 50,000 shares in the last quarter. Finally, Highbridge Capital Management LLC purchased a new stake in shares of Krystal Biotech during the 3rd quarter worth about $2,991,000. 31.63% of the stock is currently owned by institutional investors.
ILLEGAL ACTIVITY WARNING: "Krystal Biotech Inc's (KRYS) Lock-Up Period Set To Expire on March 19th" was originally posted by Week Herald and is owned by of Week Herald. If you are viewing this report on another publication, it was stolen and republished in violation of U.S. and international trademark & copyright laws. The correct version of this report can be read at https://weekherald.com/2018/03/14/krystal-biotech-incs-krys-lock-up-period-set-to-expire-on-march-19th.html.
About Krystal Biotech
Krystal Biotech, Inc is a gene therapy company. The Company is engaged in developing and commercializing novel treatments for patients suffering from dermatological diseases. The Company has developed a Skin TARgeted Delivery platform, or STAR-D platform, that consists of a patent pending engineered viral vector based on herpes simplex virus 1, or HSV-1, and skin-optimized gene transfer technology, to develop off-the-shelf treatments for dermatological diseases.
Receive News & Ratings for Krystal Biotech Daily - Enter your email address below to receive a concise daily summary of the latest news and analysts' ratings for Krystal Biotech and related companies with MarketBeat.com's FREE daily email newsletter.