Oceaneering International (NYSE:OII) announced its quarterly earnings results on Thursday. The oil and gas company reported ($0.08) earnings per share (EPS) for the quarter, beating analysts' consensus estimates of ($0.10) by $0.02, Bloomberg Earnings reports. The firm had revenue of $484.20 million during the quarter, compared to analyst estimates of $435.90 million. Oceaneering International had a positive return on equity of 0.21% and a negative net margin of 0.94%. Oceaneering International's quarterly revenue was down .9% on a year-over-year basis. During the same quarter in the previous year, the business earned $0.03 earnings per share.
Shares of Oceaneering International (NYSE OII) traded down $0.39 during trading hours on Friday, reaching $18.61. 639,877 shares of the company were exchanged, compared to its average volume of 1,285,011. The company has a market capitalization of $1,838.80, a P/E ratio of -100.00 and a beta of 1.44. Oceaneering International has a 52 week low of $17.11 and a 52 week high of $29.53. The company has a quick ratio of 2.14, a current ratio of 2.67 and a debt-to-equity ratio of 0.53.
OII has been the subject of a number of research reports. Royal Bank of Canada reiterated a "buy" rating and issued a $27.00 price target on shares of Oceaneering International in a report on Monday, October 30th. Scotiabank set a $37.00 price target on Oceaneering International and gave the company a "buy" rating in a report on Friday, October 27th. Tudor Pickering upgraded Oceaneering International from a "hold" rating to a "buy" rating in a report on Monday, November 6th. Capital One Financial lowered Oceaneering International from an "overweight" rating to an "equal weight" rating in a report on Thursday, November 16th. Finally, Societe Generale lowered Oceaneering International from a "buy" rating to a "hold" rating in a report on Monday, October 30th. Eight analysts have rated the stock with a sell rating, thirteen have assigned a hold rating and three have issued a buy rating to the company. The company currently has a consensus rating of "Hold" and a consensus price target of $23.46.
COPYRIGHT VIOLATION WARNING: This piece of content was first reported by Week Herald and is the sole property of of Week Herald. If you are reading this piece of content on another publication, it was illegally stolen and reposted in violation of U.S. and international trademark & copyright legislation. The correct version of this piece of content can be viewed at https://weekherald.com/2018/02/23/oceaneering-international-oii-releases-quarterly-earnings-results.html.
About Oceaneering International
Oceaneering International, Inc is an oilfield provider of engineered services and products, primarily to the offshore oil and gas industry, with a focus on deepwater applications. The Company's business segments are contained within two businesses: services and products provided to the oil and gas industry (Oilfield) and all other services and products (Advanced Technologies).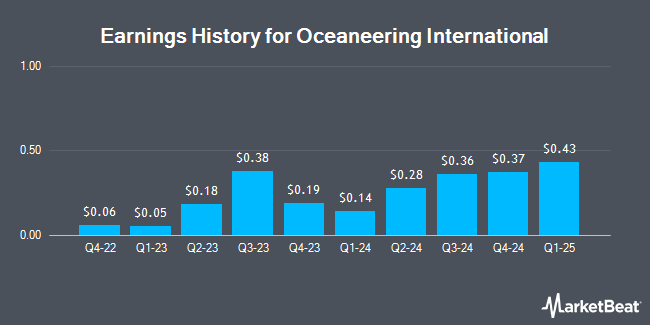 Receive News & Ratings for Oceaneering International Daily - Enter your email address below to receive a concise daily summary of the latest news and analysts' ratings for Oceaneering International and related companies with MarketBeat.com's FREE daily email newsletter.