KAZ Minerals (LON:KAZ)'s stock had its "buy" rating reiterated by research analysts at Citigroup in a report issued on Monday.
Other research analysts also recently issued reports about the stock. Macquarie upgraded shares of KAZ Minerals to an "outperform" rating in a research report on Friday, November 17th. Peel Hunt reiterated an "add" rating on shares of KAZ Minerals in a report on Thursday, January 25th. BNP Paribas reiterated an "outperform" rating on shares of KAZ Minerals in a report on Friday, February 2nd. Barclays upgraded shares of KAZ Minerals to an "overweight" rating in a report on Thursday, February 8th. Finally, Liberum Capital upped their price target on shares of KAZ Minerals from GBX 385 ($5.32) to GBX 460 ($6.36) and gave the stock a "sell" rating in a report on Monday, November 27th. Two investment analysts have rated the stock with a sell rating, two have issued a hold rating and nine have given a buy rating to the stock. KAZ Minerals has an average rating of "Buy" and an average target price of GBX 533.33 ($7.37).
Shares of KAZ Minerals (LON:KAZ) traded up GBX 12.80 ($0.18) on Monday, reaching GBX 835 ($11.54). 1,567,667 shares of the company's stock traded hands, compared to its average volume of 2,100,000. KAZ Minerals has a 1-year low of GBX 413.10 ($5.71) and a 1-year high of GBX 974.20 ($13.46). The firm has a market capitalization of $3,720.00 and a P/E ratio of 1,159.72.
COPYRIGHT VIOLATION NOTICE: "Citigroup Reiterates Buy Rating for KAZ Minerals (KAZ)" was originally published by Week Herald and is the sole property of of Week Herald. If you are accessing this story on another website, it was illegally copied and republished in violation of United States & international trademark & copyright legislation. The correct version of this story can be accessed at https://weekherald.com/2018/02/20/kaz-minerals-kaz-receives-buy-rating-from-citigroup.html.
KAZ Minerals Company Profile
KAZ Minerals PLC is a United Kingdom-based copper company. The Company operates in the natural resources industry through five segments: East Region, Bozymchak, Bozshakol, Aktogay and Mining Projects. The East Region, Bozshakol and Aktogay segments are engaged in mining and processing of copper and other metals in Kazakhstan.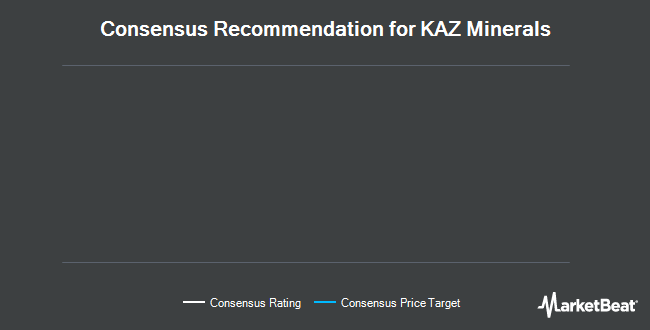 Receive News & Ratings for KAZ Minerals Daily - Enter your email address below to receive a concise daily summary of the latest news and analysts' ratings for KAZ Minerals and related companies with MarketBeat.com's FREE daily email newsletter.